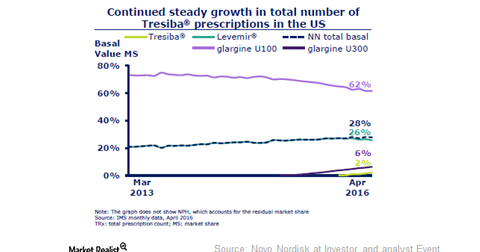 Why Market Share for Novo Nordisk's Tresiba Is Set to Grow
By Jillian Dabney

Updated
Tresiba, Novo's key drug
Tresiba is a key drug in Novo Nordisk's (NVO) next-generation insulin portfolio. It's a once-daily, long-acting basal insulin "that is released over time, lasts at least 42 hours after eight once-daily injections and has a consistently flat and steady profile at steady state."
For more about Novo's various product categories in the diabetes space, please refer to How Is Novo Nordisk Doing in the Diabetes Space?
The above graph presents Tresiba's market share in value terms. Its prescriptions in the United States are steadily rising. In April 2016, Tresiba's monthly volume market share increased to 1.4%.
Article continues below advertisement
The drug captured market share from Novo's Levemir. Tresiba is an ultralong-acting insulin that offers a substantial improvement in quality of life. With a better next-generation insulin portfolio, Novo's modern insulin sales are falling. For a better understanding of Tresiba, please refer to How Tresiba and Xultophy Will Drive Novo's Performance.
Tresiba has shown higher penetration in markets with similar reimbursements as insulin glargine. Novo is conducting a SWITCH 2 trial to prove the efficiency of the drug in reducing hypoglycemia rates compared to insulin glargine. Tresiba currently competes with GlaxoSmithKline's (GSK) Tanzeum, Sanofi's (SNY) Toujeo and Lantus, and Eli Lilly's (LLY) Basaglar.

In Japan, a biosimilar glargine was launched, but Tresiba's market share continued to grow. It holds 35% share in the Japanese basal insulin market in value terms.
With changing market dynamics, Novo Nordisk's share price may fluctuate in a broader range. To avoid the direct risk of investing in equity, you can look for options such as the Vanguard FTSE All-World ex-US ETF (VEU). The fund holds ~0.31% in Novo Nordisk.
Let's look at Wall Street analysts' recommendations for Novo Nordisk in the next part.