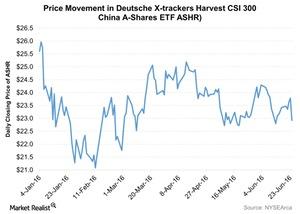 Why Are Jordi Visser and Hugh Hendry so Positive about China?
By Lynn Noah

Updated
Jordi Visser and the Shenzhen Composite Index
Jordi Visser, head of investments at the $1.4-billion US hedge fund Weiss Multi-Strategy Advisers, foresees China's Shenzhen Composite Index (ASHR) as beating most global peers by the end of December 2016. He also expects the index to top all others in the next three to five years. Foreign funds should have unprecedented access to the China's equities in 2016 when Hong Kong's connect scheme opens up.
Article continues below advertisement
Visser also sees China succeeding in its attempts to move from an economy driven by industrial expansion to one focused on technological efficiency. According to Visser, Shenzhen's success in attracting privately run startups makes it the best place to profit from this shift in the world's second-largest economy.
Specifically, Visser has said that the Shanghai Composite Index "represents China of the industrial revolution, but Shenzhen, because of all these innovative companies, represents the digital economy. Five years from now, when you look at the largest companies in the world, I think the very high number of them will be related to what's happened in Shenzhen."
Hugh Hendry has changed his mind about China
Eclectica Asset Management's Hugh Hendry, who had warned of a potential crash and made a bearish bet on Chinese banks during the financial crisis, has become more bullish on nation's prospects. Hendry has suggested that China's offshore interest rates will likely rise as policy makers seek to spur demand for the yuan and discourage investors from shorting the currency.
Hendry also stated that Chinese stocks will gain over the long term because of unprecedented economic stimulus and the end of the rally in commodities.
In the next and final part of this series, we'll look at where investors can find value in China.