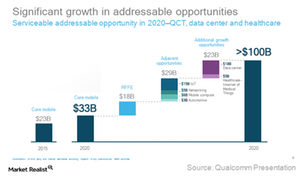 Which Industrial and Macroeconomic Factors Are Influencing Qualcomm's Growth?
Slowing smartphone market
We've already discussed how after enjoying the boom of the mobile revolution, Qualcomm (QCOM) was hit by slowdowns in the smartphone market. Its key customer, Apple (AAPL), reported its first decline in iPhone sales in fiscal 2Q16 (ending March 2016). But Qualcomm expects its core mobile chip business to grow at a CAGR (compounded annual growth rate) of around 8%–9% between 2015 and 2020.
IDC (International Data Corporation) expects smartphone shipments to grow at a CAGR of 6% between 2016 and 2020. Strategy Analytics Director Linda Sui stated that "smartphone growth is slowing due to increasing penetration maturity in major markets like China and consumer caution about the future of the world economy."
Article continues below advertisement
Article continues below advertisement
Macroeconomic environment
China is Qualcomm's biggest market, and the slowdown in the country's economy in 2015 hit the company hard. The weakness in the economy reduced the buying power of local consumers, and so they shifted from high-end phones to low- and mid-end phones.
In a weak economy, consumers delay their purchases for a better technology whereas in a strong economy consumers upgrade their phones even for marginal improvements. All hopes are now on Apple's flagship iPhone 7 to boost growth in high-end phones.
Another major economic event is the UK's "Brexit" decision to exit the EU (VGK). Qualcomm has a major licensing agreement with UK-based ARM Holdings (ARMH). If the UK's Brexit impacts the IP (intellectual property) licensing rules, Qualcomm may be affected, and whether the impact is positive or negative will depend on the new regulations.
Adjacent opportunities
Given the slowdown in core mobile business, Qualcomm is moving to adjacent markets. It expects the adjacent market to provide a $29-billion growth opportunity and data center to provide another $18-billion opportunity by 2020. IT Brand Pulse expects data center demand to shift from traditional server storage to SDS (software-defined storage).
On the IoT front, McKinsey Global Institute expects IoT devices to grow at a CAGR of 15%–20% to reach 30 billion devices by 2020. However, IoT growth is being hindered by the lack of standards and the absence of a single application that provides comprehensive solutions.
Qualcomm appears to be best placed to address these hurdles and grow in the IoT space. It may also look for strategic acquisitions to grow in this area. Some analysts believe Cypress Semiconductor (CY) is a good acquisition target for anyone looking to grow in the IoT space.
In the next and final part, we'll look at the investor reaction to Qualcomm's headwinds.