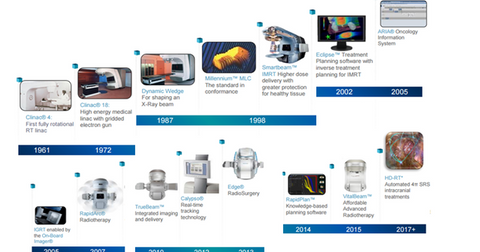 How Has Varian Medical Systems Progressed in Radiotherapy?
By Sarah Collins

Updated
Product innovation
Varian Medical Systems (VAR) has an innovation-led product pipeline. It continually strives to provide advanced and more effective radiotherapy solutions to its customers. Moreover, the company has expanded its products across the diverse application areas such as prostate cancers, head and neck cancers, cervical cancer, lung cancer, as well as metastatic diseases (cancer that spreads from one part of the body to another). 
Also, the company's radiotherapy solutions are used in treatments that use radiotherapy as part of treatment and not as an entire treatment method. Breast cancer, brain tumors, pediatric cancer, and bladder cancer cases are such conditions. The below chart shows Varian's key product launches.
Article continues below advertisement
High-definition radiotherapy
High-definition surgery is the advanced radiotherapy treatment that is expected to be highly efficient and cost-effective. It's expected to simultaneously treat multiple lesions, whereas the existing technology requires individual treatment of each lesion. Moreover, the high definition radiotherapy enables focused treatment and is expected to prevent damage to surrounding healthy tissue.
Research opportunities
Varian Medical Systems is exploring radiotherapy application opportunities beyond oncology. For instance, in Germany, arthritis is frequently treated with radiation using RFA (radiofrequency ablation). Some of the other potential application areas include emphysema, depression, and post-thoracic surgery.
Some of the major competitors of Varian Medical Systems include Philips, RaySearch Laboratories, Accuray (ARAY), Boston Scientific (BSX), and Intuitive Surgical (ISRG). Investors can invest in the Guggenheim S&P 500 Equal Weight ETF (RSP), which holds approximately 0.18% of its total holdings in Varian Medical Systems.