How Coca-Cola Is Reshaping Its Strategy for Sparkling Beverages
Coca-Cola is now changing its approach from offering beverage choices to consumers to shaping their choices.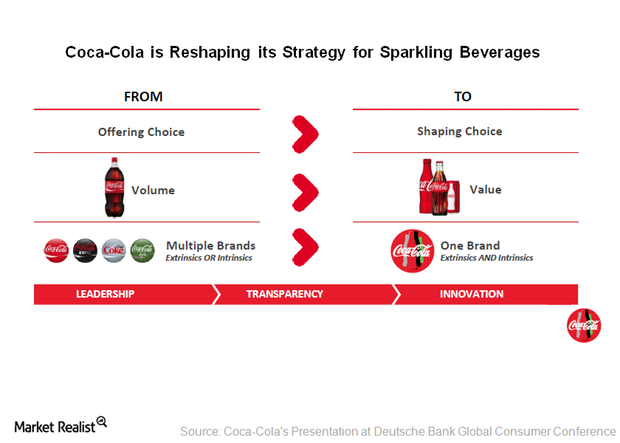 Pressure on sparkling beverages
In part one of this series, we discussed how soda tax will put pressure on major carbonated soft drink makers like Coca-Cola (KO), PepsiCo (PEP), and Dr Pepper Snapple (DPS). Aside from regulatory pressures, these beverage companies are also witnessing a continued shift in consumer preferences from soda to healthier beverage options. In 1Q16, Coca-Cola's sparkling beverage volume remained flat while the still or noncarbonated beverage volume grew 7%.
Rival PepsiCo's North America Beverages segment reported a 2% decline in soda volumes and a 7% rise in noncarbonated beverage volumes. Dr Pepper Snapple (DPS) experienced a 2% rise in both its carbonated soft drink category volumes and its noncarbonated beverage volumes.
Article continues below advertisement
Article continues below advertisement
Reshaping strategy
At the Deutsche Bank Global Consumer Conference held on June 16, James Quincey, Coca-Cola's president and chief operating officer (or COO) discussed how the company is reshaping its sparkling beverage strategy amid the challenges the category is facing. Coca-Cola is now changing its approach from offering beverage choices to consumers to shaping their choices. Through its marketing efforts, designs, and reformulations, Coca-Cola aims to encourage consumers to pick added sugar beverages responsibly. The company intends to help consumers in making informed choices by providing clear facts about its beverages, nutrition information, and portion recommendations.
Coca-Cola and Monster Beverage (MNST) together account for 5.8% of the iShares Global Consumer Staples ETF (KXI). In 2015, Coca-Cola purchased a 16.7% stake in Monster Beverage.
Coca-Cola also aims to reduce its aggregate sugar content across its portfolio and continue to provide low-calorie and no-calorie products. The company is also shifting from a volume-based approach to a value-based approach. Coca-Cola is promoting smaller packages as healthier options compared to traditional sizes. Smaller packages are also benefitting the company's profitability, as they carry higher margins.
Plus, the company has changed its marketing approach for the Coca-Cola brand. Earlier this year, Coca-Cola revealed a new "one brand" global marketing strategy that combined Coca-Cola, Diet Coca-Cola, Coca-Cola Zero, and Coca-Cola Life brands under the iconic Coca-Cola brand. Through this strategy, the company moved away from multiple brand campaigns to a single campaign with a new tagline "Taste the Feeling."
In the concluding part of this series, we'll discuss analyst recommendations for Coca-Cola.