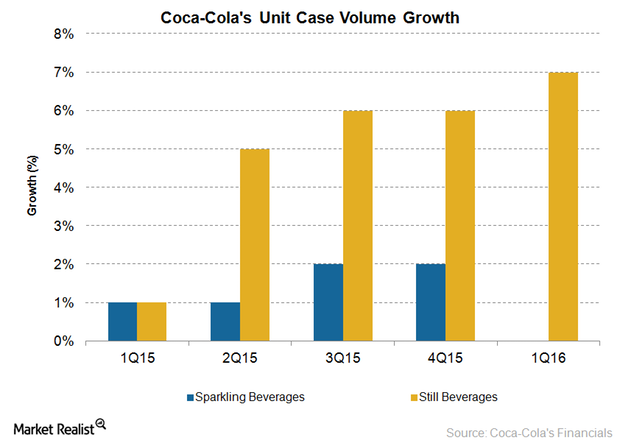 The Growing Emphasis of Coca-Cola and Peers on Still Beverages
Healthier options
In Part One of this series, we discussed Coca-Cola's (KO) acquisition of a minority stake in Aloe Gloe. Aside from Aloe Gloe, another plant-based beverage acquisition made by the company was that of Xiamen Culiangwang Beverage Technology Company in 2015.
The popular products of Xiamen Culiangwang include green bean, red bean, and walnut variants of plant-based protein drinks sold under the brand China Green Culiangwang.
Coca-Cola's bolt-on acquisitions of healthier beverage options are part of its strategy to accelerate its growth in the still or non-carbonated beverage space.
Article continues below advertisement
Soda beverages fail to impress
As reflected in the above graph, Coca-Cola's sparkling beverage volumes have been underperforming its still beverages. In 1Q16, Coca-Cola's sparkling beverage volumes remained flat on a year-over-year basis while its still beverage volumes rose by 7%.
Rival PepsiCo's (PEP) North America Beverages segment experienced a 2% fall in its 1Q16 soda beverage volumes in contrast to a 7% rise in its non-carbonated beverage volumes. Dr Pepper Snapple (DPS), the third-largest soda beverage maker in the United States, reported a 2% rise in its carbonated and non-carbonated beverage volumes in 1Q16.
Monster Beverage (MNST) reported comparable sales growth of 15.9%, driven by strong energy drink volumes in domestic and international segments.
Expansion of still beverage portfolio
In early June, Coca-Cola announced the acquisition of AdeS soy-based beverage business from Unilever (UL). Coca-Cola also acquired a minority stake in Chi Limited, Nigeria's leading dairy, juice, and snack company. The iShares U.S. Consumer Goods ETF (IYK) has 7.9% exposure to Coca-Cola.
In August 2015, Coca-Cola purchased a ~30% stake in Suja Juice, a California-based manufacturer of organic juices. Suja Juice uses high-pressure processing technology to preserve nutrition and taste.
On June 15, 2016, Coca-Cola's Honest Tea brand launched Honest Sport, a new line of organic sports drinks, at select Whole Foods Market (WFM) locations this summer. Honest Sport is sweetened with organic, fair trade–certified sugar and fruit juice. It will be available in three varieties: Lemon, Orange, and Berry.
Coca-Cola's still beverages portfolio expansion is likely to mitigate the impact of the weakness in its soda beverage volumes.
For more updates, you can visit our Nonalcoholic Beverages page.