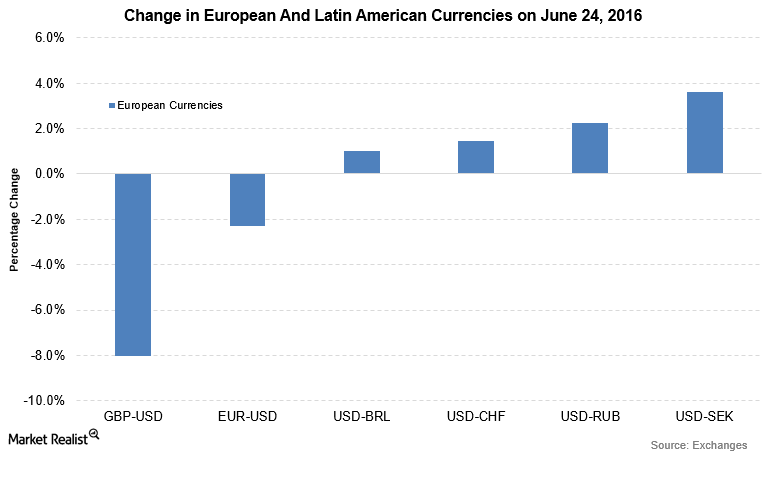 Global Central Bank Leaders Meet to Calm Market Jitters
Global economic meeting appreciates preparedness of central banks
Central banks met in Basel during the Bank of International Settlement's annual meeting where they discussed how to control the impact of Brexit on the global economy. The meeting included central bank heads from nearly 30 countries. The Chairman of the GEM (global economic meeting), Agustin Carstens, said that they would keep a close eye on the Market. Also, they would cooperate when necessary to ensure global economic stability. The GEM participants also lauded the preparedness and steps taken by the Bank of England (EWU) and other central banks to counter any negative market conditions.
Article continues below advertisement
Bank of England moved swiftly to calm markets
The BOE (Bank of England) had a contingency plan ready in terms of Brexit. The plan was executed immediately after the results of the referendum came out. The BOE chief pledged to support financial markets by making 250 billion pounds worth of money available to financial institutions to prevent any liquidity concerns. The BOE is expected to put aside any chances of a rate hike. It's expected to go into more monetary policy easing. The First Trust United Kingdom AlphaDEX ETF (FKU) fell by 18.5% for the day.
BoJ and SNB intervene to prevent rapid currency appreciation
The Brexit had a major impact on many currency pairs. Most of them depreciated including the pound—it fell the most. For more details on the pound, read Pound Sterling Falls to 30-Year Lows as Britain Exits the EU.
Safe-haven currencies such as the Swiss franc and Japanese yen (AAXJ) saw heavy appreciation. Both respective central banks actively intervened in the currency markets to prevent rapid appreciation. The US dollar to Swiss franc fell to a low of 0.9555 before recovering to close at 0.9736 after the intervention by the Swiss National Bank (SNB). The iShares MSCI Switzerland Capped ETF (EWL) fell by 7.0% on June 24. There was a similar reaction in the US dollar to Japanese yen (DXJ) currency pair. It fell to 99.1 before ending the day at 102.2.