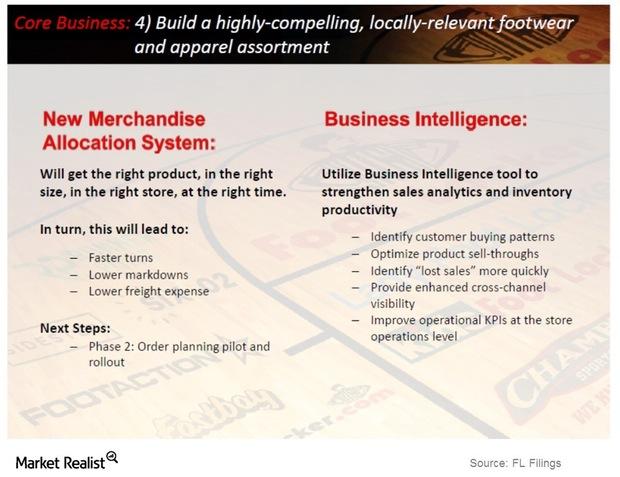 How Foot Locker Has Stepped Up Inventory Management Efforts
Analyzing Foot Locker's inventory management policies
In recent quarters, Foot Locker (FL) has made inventory management a priority. The retailer is targeting faster inventory turns. A higher ratio would imply quicker sales and fresher inventory, reducing the need for product markdowns and ensuring higher profitability.
Recently, Foot Locker's inventory turnover ratio has improved, rising from 3.1x in fiscal 2007 to 4.0x in the trailing 12-month period. In contrast, other sporting goods retailers such as Dick's Sporting Goods (DKS), DSW (DSW), Cabela's (CAB), and Finish Line (FINL) had inventory turnover ratios of 3.1x, 3.5x, 2.7x, and 3.6x, respectively, in the trailing 12-month period.
Article continues below advertisement
Article continues below advertisement
Recent initiatives
Foot Locker is investing in IT (information technology) systems that make it easier to view inventory across store (XRT) banners and selling channels for both sales staff and customers. The retailer is also working on advanced sales analytics tools that make it easier to identify customer purchase behavior, which is highly relevant to stocking decisions.
Foot Locker is also investing in its merchandising staff to make sure the right product assortment hits stores at the right time. Salespeople are provided with handhelds that enhance stock visibility.
Higher inventory visibility would help optimize inventory levels in stores. It would also enable omnichannel options such as buy-online-ship-to-store, buy-online-reserve-in-store, and same-day delivery. These would make it easier for sales staff to close sales.
That's particularly relevant, considering the company is in the midst of revamping store formats. Foot Locker is also engaging in a multiyear program of rationalizing its retail footprint. That includes store remodels, relocations, expansions, and store closures.
Foot Locker aims to provide a variety of store banners with niche products that cater to the preferences of its targeted customer demographic.