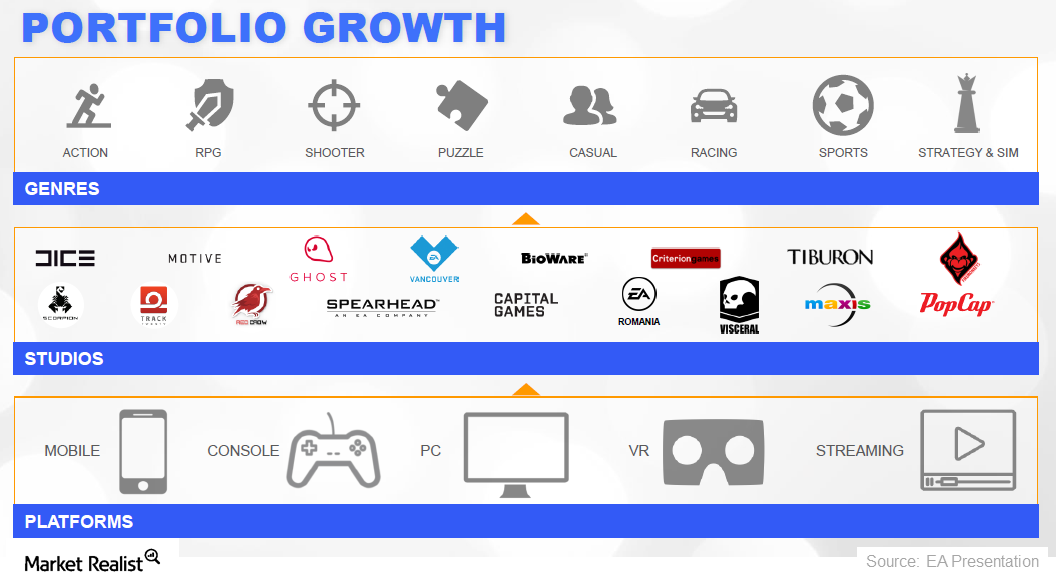 Electronic Arts Has a Gaming Portfolio across Genres
According to Statista, shooter and action games dominate video game sales and account for 24.5% and 22.9% of total sales, respectively, in the United States
EA's Battlefield 1 trailer viewed over 37 million times
Battlefield 1 is one of Electronic Arts's (EA) most successful games. The game's trailer has been viewed over 37 million times on YouTube (GOOG) (GOOGL). Electronic Arts noted that it wanted to build a "truly global" game where weaponry evolves dramatically over time. This could engage players for months and even years.
EA stated that Battlefield 1 accounts for 25% of share in the "shooter" category. The CEO of EA, Andrew Wilson, stated, "We believe that we are supremely well positioned in FY 2017 with a combination of epic scale Battlefield and fast and fluid Titanfall to have tremendous growth in that category."
In the mobile category, Wilson stated that EA is adding to its existing suite of strong live services that have been providing consistent mobile revenue growth. EA is set to launch FIFA and NBA Live this year.
Article continues below advertisement
Article continues below advertisement
Shooter and action games account for 45% of total video game sales
According to Statista, shooter and action games dominate video game sales and account for 24.5% and 22.9% of total sales, respectively, in the United States (SPY). This was followed by the sports, role-playing, and adventure genres, which account for 13.2%, 11.6%, and 7.7% of total sales, respectively.
The bestselling video games of 2015 include Electronic Arts's (EA) FIFA 2016, which has sold over 14.3 million units. Star Wars Battlefront and Batman: Arkham Knight sold 12.4 million units and 6.7 million units, respectively.
Activision's (ATVI) Call of Duty: Black Ops 3 was also one of the top-selling games in the last year.