What Drove Down General Mills' Revenue Growth for Fiscal 4Q16?
General Mills' (GIS) net sales for fiscal 4Q16 fell 9% year-over-year. However, they beat analysts' estimates by 2%.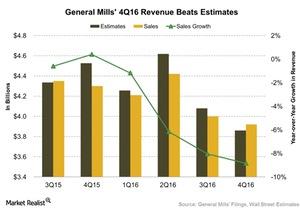 Why revenue declined 9%
General Mills' (GIS) net sales for fiscal 4Q16 fell ~9% year-over-year. Sales came in around $3.9 billion compared to $4.3 billion in the comparable quarter a year ago. However, this beat analysts' estimates by ~2%. Net sales also fell 6% for fiscal 2016 to $16.6 billion.
Article continues below advertisement
Article continues below advertisement
What pulled down revenue growth?
Pound volume had an adverse impact of 7 percentage points on net sales for 4Q16 and 3 percentage points for the fiscal year. There was also a declining effect of 1 percentage point from net price realization and mix and another 1 percentage point from currency translation headwinds.
Net sales fell 8% on a constant currency basis. There was an adverse impact of 9 percentage points to growth from one less week and from acquisitions and divestitures.
Management's view
General Mills' chairman and chief executive officer Ken Powell stated, "We made important progress strengthening our business model and bringing our Consumer First strategy to life in our brands in fiscal 2016."
He added, "We're now going to build on our 2016 successes by investing to grow where we have positive net sales momentum, taking clear Consumer First actions to establish a solid base for long-term growth on certain other businesses, accelerating our margin expansion efforts already in progress, and taking additional actions to optimize spending, reduce complexity, and prioritize profitable volume."
Peer revenue
General Mills' peers in the industry such as WhiteWave Foods (WWAV), J&J Snack Foods (JJSF), and Post Holdings (POST) reported revenue growth of 14%, 2%, and 21%, respectively, for their last reported quarters.
To gain exposure to General Mills, you can invest in ETFs such as the Victory CEMP US EQ Incom Enhanced Volatility Wtd Index ETF (CDC) and the PowerShares High Yield Equity Dividend Achievers ETF (PEY), which invest 1.5% and 1.6%, respectively, in General Mills.
Next, let's see why General Mills declared a dividend increase in fiscal 4Q16.