Why Domino's Outperformed Other Fast-Food and Pizza Companies in Same-Store Sales Growth in 1Q16
SSSG is an important metric for investors to monitor because it increases a fast-food company's revenue without increasing capital investment.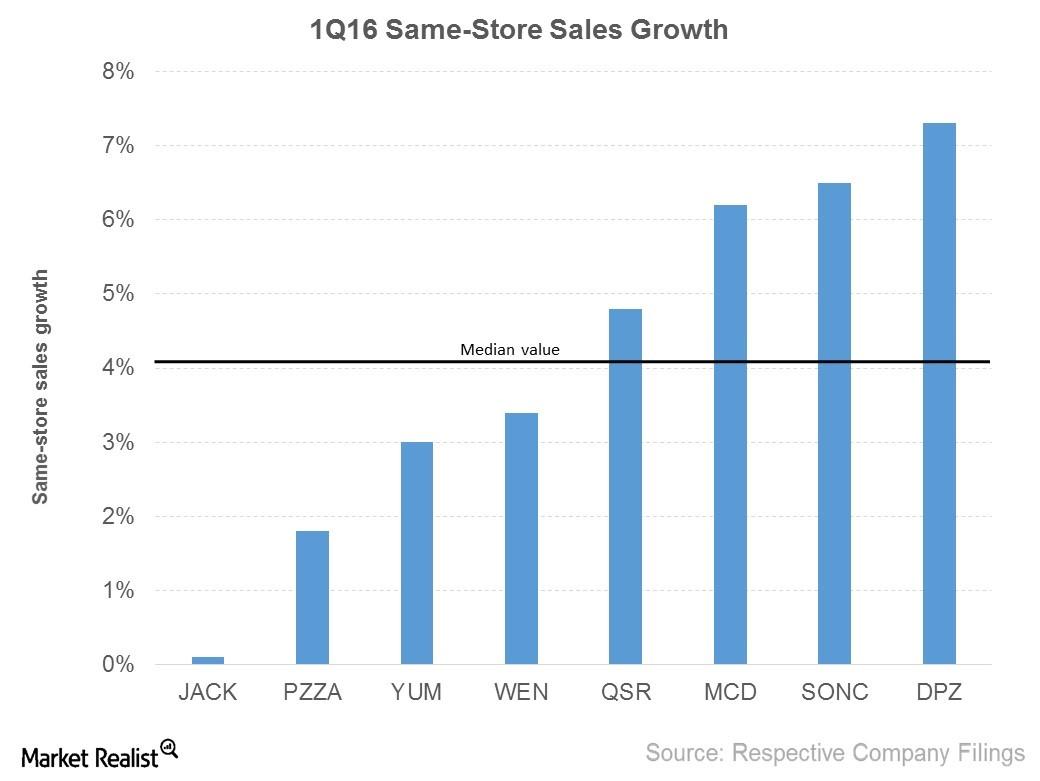 Same-store sales growth
Expressed as a percentage, SSSG (same-store sales growth) measures of the revenue gains of existing restaurants over a certain period of time. Specifically, SSSG is driven by ticket size and traffic. It's an important metric for investors to monitor because it increases a company's revenue without increasing capital investment, making it a direct reflection of how much traffic each location is driving without adding more stores.
High SSSG indicates a company's value proposition in attracting customers. Notably, the eight fast-food and pizza companies in our group have posted a median SSSG of 4.1%.
Article continues below advertisement
Article continues below advertisement
The leaders
In 1Q16, with SSSG of 7.3%, Domino's Pizza (DPZ) beat the other seven companies we're considering in this analysis. DPZ's SSSG was driven by enhanced customer experience from its increased investment in e-commerce and other technological initiatives. DPZ was followed by Sonic (SONC), which saw SSSG of 6.5% in 1Q16. By putting greater emphasis on personalized service and utilizing technological advancements, SONC was able to boost its sales in 1Q16.
McDonald's (MCD) and Restaurant Brands International (QSR) also posted SSSGs above the median. Its new reorganization strategy and its implementation of "All Day Breakfast" have both continued to boost MCD's sales, while new product launches and promotions drove the SSSGs of Tim Hortons and Burger King of QSR.
The laggards
Despite its 3.2% increase in menu prices, Jack in the Box (JACK) posted SSSG of just 0.1% due to declines in traffic and negative product mix. The company's new strategy of moving away from promotional offers and toward quality products appears to have negatively affected JACK's SSSG. JACK makes up 0.34% of the holdings of the iShares Russell 2000 Growth ETF (IWO).
By comparison, Papa John's (PZZA) had SSSG of 1.8% in 1Q16, with just one international segment driving this metric. PZZA focuses on providing healthier and cleaner pizza by removing artificial and synthetic ingredients, and this initiative has boosted the company's international sales.
Pizza Hut of YUM! Brands (YUM) and Wendy's (WEN) posted SSSGs of 3%, and 3.4%, respectively.