How Disruptive Innovation Is Changing Latin America
Changing demographics in Latin America are driving innovations. Young people, which account for 25% of the total population, are more likely to accept innovation.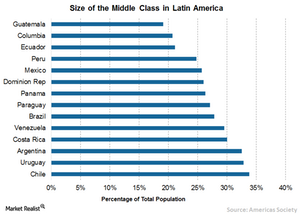 Armando Senra, BlackRock Head of the Latin America & Iberia Region, discusses how disruptive innovation could lead to powerful changes in Latin America and create economic opportunities for more in the region.
Disruptive innovation is unequivocally a catalyst for inclusive growth. By making a product or service more accessible, disruptive innovation transforms markets and allows for a more equitable allocation of resources. This disruptive force has the power to displace established competitors and redefine an industry. Oftentimes, it brings about powerful social and economic changes by integrating the informal economy, the part of the population that has sometimes been ignored.
Article continues below advertisement
Article continues below advertisement
Latin America is about to experience that market disruption, in my opinion. Consider the region's young population, expanding middle class, fast adoption of technology and relatively weak market competition—conditions are ripe for change. If Latin America takes more steps to encourage innovation, it could be in the driver's rather than the passenger's seat as things change. More inclusive growth—and ultimately stronger economies—could be on the horizon.
Market Realist – Disruptive innovation brings positive changes
Disruptive innovation is a phenomenon that unsettles existing market structures and regulatory frameworks by introducing innovative ways to do business while challenging traditional business models. For example, technology innovators such as Uber, Tappsi, and Easy Taxi provide online transportation solutions at a much more competitive rate in Latin America (ILF).
The innovative use of the Web and mobile technologies in the financial services domain is helping boost financial inclusion. These innovations include technology-driven low-cost remittance services, mobile telephone-based electronic payment services, and small loan access to poor people in remote areas.
Article continues below advertisement
Positive demographics
The changing demographics of Latin America (EWZ) (EWW) are instrumental in driving these disruptive innovations. The region has around 155 million young people, which account for 25% of the total population. These young people are more likely to accept technology and innovation.
The middle class in Latin America, which rose 50% in the past decade, makes up 30% of the total population. The World Bank estimates that the middle class will comprise around 50% of the total population by 2030.
Technology adoptions
Fast adoption of technology is another factor that's bringing positive change. Latin America (ECH) has the fastest rate of smartphone adoption in the world (IVV), and many will have access to smartphones before computers.
Newfound access to technology and the Web could cause the popularity of disruptive business ideas to increase. This would bring more inclusive and broader economic growth.