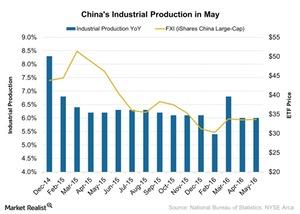 China's Industrial Production Rises: Is Investor Confidence Back?
China's industrial production
On a year-over-year basis, China's industrial production increased 6.0% in May 2016. That's the same pace as April. It beat Market expectations of a 5.9% increase. Manufacturing output increased 7.2%. Electricity, water, and gas production rose 2.4%, and the mining sector fell 2.3%.
The rise in industrial production shows that China (MCHI) (YINN), the world's (ACWI) second-largest economy, is stabilizing after a poor first quarter. On a year-over-year basis, China's (FXI) (ASHR) retail sales increased 10% in May 2016 compared to 10.1% in April. However, it failed to meet Market expectations of a 10.1% increase. This is the weakest growth since April 2015.
China's fixed-asset investment increased 9.6% from January to May 2016, compared to 10.5% from January to April 2016. Retail sales and fixed-asset investments softened in May, while industrial growth met Market expectations.
Article continues below advertisement
Article continues below advertisement
The central bank eased its monetary policy to stimulate the economy. Government spending also needs to improve to support China's new growth model. Since the economy is transforming from a manufacturing hub to a consumption-led economy, government spending needs to improve. The growth in retail sales and fixed-asset investments also needs to improve in the near future to support the transition of the economy.
In the next part of this series, we'll look at US retail sales in May 2016.