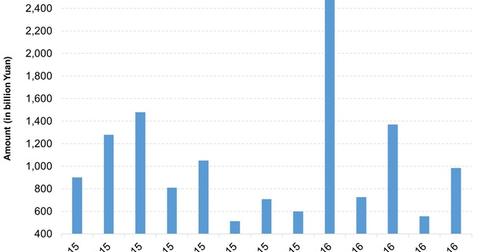 What Do China's Credit Metrics Mean for Iron Ore?
By Anuradha Garg

Updated
China's credit metrics
Financing, or the level of credit available, is crucial to growth because it stimulates consumption and investments in an economy. By tracking the credit growth in China (MCHI), investors can gauge patterns that forecast future demand.
Article continues below advertisement
Aggregate financing falls
Aggregate financing measures liquidity by adding the total funds provided by a financial system to non-financial sectors and households. China's aggregate financing fell to 659.9 billion Chinese yuan ($115.2 billion) in May 2016 from 751.0 billion yuan ($115.2 billion) in April.
New yuan loans rise
According to the PBoC (People's Bank of China), new loans issued by Chinese banks rose to 985.5 billion yuan ($150 billion) in May 2016 from 555.6 billion yuan ($85.2 billion) in April.
M2 money supply also rises
The broad M2 money supply rose by 11.8% YoY (year-over-year) in May, but this was below the 12.8% rise in April. M2 includes cash, checking deposits, savings deposits, money market mutual funds, and other time deposits.
The PBoC is aiming for annual M2 growth of around 13% in 2016, raising the hope that the Chinese authorities will increase easing measures in the foreseeable future.
Overall, China's monetary conditions remain accommodative. However, the International Monetary Fund (or IMF) has warned China about risks to its economy due to its rapid increases in credit and debt. If the government keeps its policy less supportive in the future, pressure could return to steel mills and seaborne iron ore players. These players include BHP Billiton (BHP) (BBL), Rio Tinto (RIO), Vale (VALE), and the Asia-Pacific division of Cliffs Natural Resources (CLF).
BHP's listings form 6.3% of the iShares Commodities Select Strategy ETF (COMT).