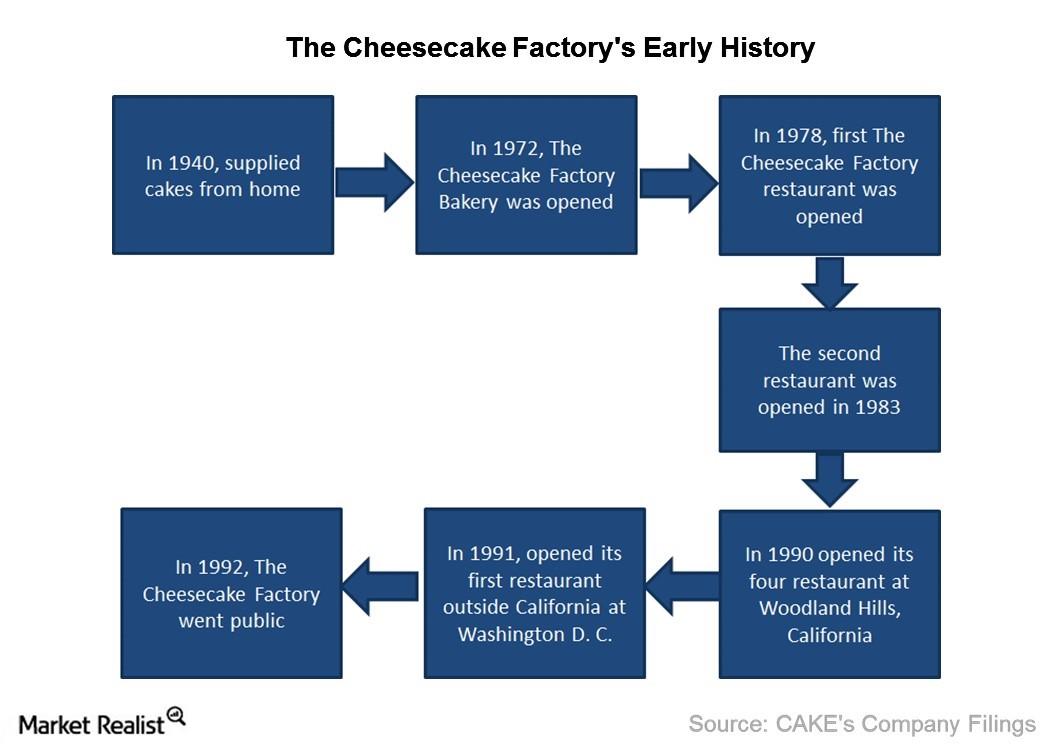 How Did The Cheesecake Factory Come to Exist?
By Rajiv Nanjapla

Jun. 2 2016, Updated 2:06 p.m. ET
Early history
The origin of The Cheesecake Factory (CAKE) dates back to the 1940s, when David Overton's mother Evelyn Overton found a recipe in a local newspaper that inspired her original cheesecake.
Evelyn's recipe was loved by everyone. She wanted to open a small shop, but she eventually gave up this dream in order to raise her two children. However, during this time, she continued to supply cheesecakes to several restaurants.
Once their children were grown, Evelyn and her husband Oscar moved to Los Angeles in 1972 to open The Cheesecake Factory Bakery. As customers responded well to Evelyn's cheesecakes, she extended the recipe to 20 variants.
Article continues below advertisement
The beginning
With the intention of showcasing his mother's variety of cheesecakes, David Overton opened his first The Cheesecake Factory restaurant in Beverly Hills, California, in 1978. The restaurant became popular among California diners.
Sensing this, David opened a second restaurant in Marina del Rey, California. Later, he opened a third restaurant in Redondo Beach, south of Los Angeles. This was a 300-seat restaurant, and the company had spent $2 million on renovations.
As the popularity of the restaurant grew, the company expanded its one-page menu to offer pizza, meatloaf, chicken tacos, and baby back pork ribs.
However, cheesecakes with 42 variants remained the main attraction. As the popularity of its products grew, the company started to sell them through grocery store chains, such as Kroger's and Dominick's Finer Foods in Chicago and Price Club in San Diego.
In 1990, CAKE, which forms 0.15% of the iShares Core S&P Mid-Cap ETF (IJH), opened its fourth restaurant in Woodland Hills, California. One year later, it took the concept to Washington, opening its fifth restaurant in the Chevy Chase section of the District.
In 1992, David decided to take the company public to raise the money to finance his expansion plans. We'll discuss The Cheesecake Factory's life after going public in our next article.
The origins of Texas Roadhouse (TXRH), Brinker International (EAT), and Darden Restaurants' (DRI) Longhorn Steakhouse and Olive Garden date back to 1993, 1975, 1981, and 1982, respectively.