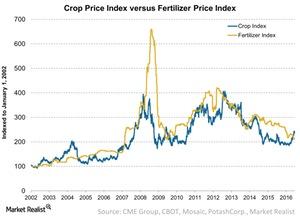 Agricultural Chemical Companies: Crop and Fertilizer Price Impact
By Adam Jones

Updated
Grain and oilseed prices
Grain and oilseed prices play a critical role in how agricultural fertilizer prices move. Farmers anticipating an increase in grain and oilseed prices will seek to improve yield to cash in. This leads to a growth in demand for fertilizers.
So investors in the fertilizer industry (XLB) must actively track the relationship between crop prices and fertilizer prices. This, in turn, impacts agricultural chemical companies such as PotashCorp (POT), CF Industries (CF), Mosaic (MOS), and Intrepid Potash (IPI).
Article continues below advertisement
2007–2009
The above graph shows a high correlation between the crop price index[1. calculated using historical spot prices of key NPK (nitrogen, phosphorus, and potassium) consuming crops of corn, wheat, soybean, and rice] and the fertilizer price index.[2. calculated using spot prices of key NPK products such as urea, DAP (diammonium phosphate), and MOP (muriate of potash) at key selling points]
Fertilizer stocks rose
In 2007, crop prices rose dramatically, and fertilizer prices followed. The trend continued into late 2008 and early 2009. Higher realized prices for fertilizers led to significant earnings growth. This led to share price appreciation of agricultural fertilizer producers during this period.
Bear in mind that this was in 2007 during the financial crisis when the S&P 500 fell 38%.
Crop prices rose again
A similar trend occurred again in 2010, when fertilizer prices rose in anticipation of a rise in crop prices. However, this time, fertilizer prices didn't rise as much as 2007–2009 levels.
In the next part, we'll see why that may have been the case and what it means for the fertilizer industry in the coming years.