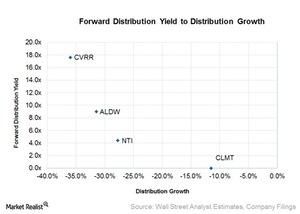 What Does Calumet's Current Valuation Indicate?
By Rekha Khandelwal, CFA

Jul. 12 2016, Updated 5:04 p.m. ET
Calumet's forward distribution yield
Currently, Calumet Specialty Products Partners (CLMT) is trading at a forward distribution yield of 0%. Its five-year average distribution yield is 11.5%. Its forward yield reflects its suspended distributions in 1Q16. It indicates that analysts don't expect it to pay distributions in the next year.
In comparison, Northern Tier Energy (NTI), CVR Refining (CVRR), and Alon USA Partners (ALDW) trade at forward yields of 4.4%, 18%, and 9%, respectively.
Article continues below advertisement
As the above graph shows, analysts expect the two-year compound distribution growth for all of the four refining MLPs to be negative. CVR Refining is expected to have the highest drop in its distributions over the next two years. It should be noted that CVR Refining, Alon USA Partners, and Northern Tier Energy have variable distribution policies.
EV-to-EBITDA multiple
Calumet is trading at a trailing-12-month EV-to-EBITDA (enterprise value to earnings before interest, tax, depreciation, and amortization) multiple of 10.2x. Its historical average EV-to-EBITDA over two years is 7.1x.
In comparison, Alon USA Partners, Northern Tier Energy, and CVR Refining are trading at EV-to-EBITDA multiples of 3.8x, 7.2x, and 4.2x, respectively. So, Calumet's EV-to-EBITDA multiple is higher than its selected peers.
Calumet trades at a forward EV-to-EBITDA of 9.2x. Alon USA Partners, Northern Tier Energy, and CVR Refining trade at forward EV-to-EBITDA ratios of 6.7x, 10.8x, and 5.9x, respectively.
Impact of IDRs
It should be noted that the EV-to-EBITDA ratio can be misleading when you're trying to understand the unit valuation of limited partners. This is because the entire EBITDA in the EV-to-EBITDA ratio calculation may not be available to limited partners.
Calumet has IDRs (incentive distribution rights) in its structure. Prior to the suspension of distributions, it was operating in the highest distribution tier with a 50% split. Higher splits usually divert incrementally more cash to the general partner. This makes distribution growth to limited partner unit holders more difficult to achieve.