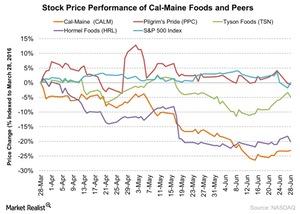 Why Did Cal-Maine Shares Fall 23% in the Last 3 Months?
Cal-Maine shares fell
Cal-Maine Foods (CALM) is the largest producer and marketer of shell eggs in the US. It saw declining growth in its shares in the last three months. The company's shares are trading close to its 52-week low. As of June 28, it closed at $41.91—a fall of 23% in the last three months and 12% so far in 2016. Analysts' drastic revisions for earnings estimates seem to have taken a toll on the stock performance. We'll discuss this more in the series.
Article continues below advertisement
The outbreak of avian influenza impacted Cal-Maine Foods and other companies in the meat and egg industry in 2015. However, the company's stock started gaining. It increased as much as 20% in 2015. The declining earnings estimate revision for the current quarter and fiscal 2016 impacted the stock price in the last three months.
What impacted the stock?
Analysts' lower earnings per share estimates resulted from falling egg prices and the stock's recent downgrade by DA Davidson. On May 9, the firm downgraded the stock to "underperform." Also, it lowered the stock's target price to $37 due to lower egg prices. The stock fell 5% on the day. Since then, it has fallen 14%.
Article continues below advertisement
Peers' stock performance
Cal-Maine Foods' privately held peers include Rose Acre Farms, Michael Foods Group, and Moark LLC. Other peers in the food and meat industry like Pilgrim's Pride (PPC), Tyson Foods (TSN), and Hormel Foods (HRL) have fallen ~1%, 5%, and 20% in the last three months.
The share price of the PowerShares Dynamic Food & Beverage ETF (PBJ) increased 1% during the same period. PBJ invested 59% of its holdings in food and beverage companies. Cal-Maine Foods forms 2.5% of PBJ. The iShares Morningstar Mid Value ETF (JKI) invests 1.3% in Tyson Foods.
What's in this series?
In this series, we'll focus on analysts' revised earnings estimates for the current and upcoming quarters. We'll also dive into the company's future growth priorities—discussed in the Stephens Spring Investment Conference held this month. We'll end the series with Wall Street analysts' recommendations and valuations for Cal-Maine Foods.