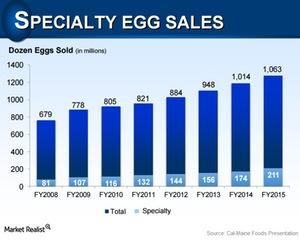 Cal-Maine Plans to Increase Its Value-Added Specialty Egg Business
Value-added specialty egg business
Cal-Maine Foods (CALM) plans to grow its specialty egg business by meeting consumer demand in the rapidly growing segment. It expects to benefit from higher and less cyclical selling prices. Specialty eggs are nutritionally enhanced organic cage-free eggs. In fiscal 3Q16, specialty eggs made up 23.6% of dozens of shell eggs sold and 31.6% of the company's total shell egg sales. For the period ending May 7, 2016, Cal-Maine Foods' specialty eggs business held ~18% of the total market share.
Article continues below advertisement
Article continues below advertisement
Expanding its market reach
To expand its market reach in specialty egg sales and in light of changing demand trends, Cal-Maine Foods entered into a joint venture with Hickman's Egg Ranch in 2H14. Together, they formed Southwest Specialty Eggs, LLC. The company also acquired Eggland's Best franchise in Arizona. It's licensed to sell Land O'Lakes branded specialty eggs, Eggland's Best, and other premium brands. During the same period, the company also added southern California markets as well as Clark County and Las Vegas, Nevada.
Management thinks that with the balance of conventional, nutritionally enhanced, cage-free, and organic eggs the company is on track to capitalize on additional opportunities to market and sell specialty eggs in fiscal 2016. The company is even ready to enhance its product mix to meet customers' needs. Cal-Maine sells its specialty shell eggs under brands like Eggland's Best, Land O' Lakes, Farmhouse, and 4-Grain.
Cal-Maine Foods' privately held peers include Rose Acre Farms, Michael Foods Group. and Moark LLC. Cal-Maine Foods also forms 1.5% of the PowerShares DWA Consumer Staples Momentum Portfolio (PSL). PSL also holds meat producers stock. It holds 3.3% in Tyson Foods (TSN), 2.2% in Pilgrim's Pride (PPC), and 3.2% in Hormel Foods (HRL).