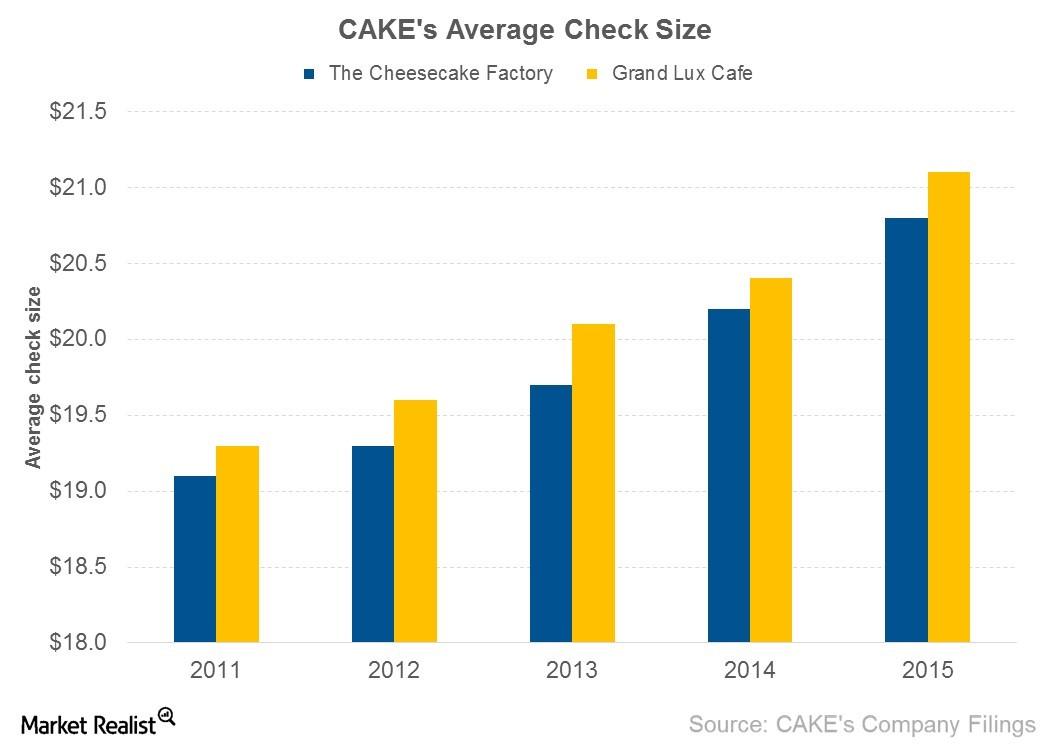 CAKE's Average Check Has Increased Year-over-Year
Average check size
Average check size is the average price a customer pays for a meal at a restaurant. As the check size increases, a company's revenue rises.
Average check size increases due to either a rise in menu prices or a favorable product mix. A rise in average check size due to a rise in menu prices isn't sustainable, as a company can't continuously raise its prices in the competitive restaurant market.
Article continues below advertisement
CAKE's average check size
In 1992, when The Cheesecake Factory (CAKE) was listed, its average check size was $13.6. By the end of 2015, the company's average check size had increased to $20.8, which represented a rise of 53%. From 2011 to 2015, the average check size rose by 9% from $19.1 to $20.8.
The rise in CAKE's average check size has largely been due to rises in its menu prices. However, in the last two years, favorable product mix has also contributed to its increased check size.
In 2015, Brinker International's (EAT) Chili's Grill & Bar, Texas Roadhouse (TXRH), and Darden Restaurants' (DRI) Olive Garden posted average checks of $14.5, $16.3, and $17, respectively. CAKE forms 0.15% of the holdings of the iShares Russell 2000 ETF (IWM).
Grand Lux Cafe's average check
The average check for Grand Lux Cafe rose from $19.3 in 2011 to $21.1 in 2015. The brand has increased its menu prices by 2% every year, which has been the main driver of its check-size growth of 9.4% in the last five years.