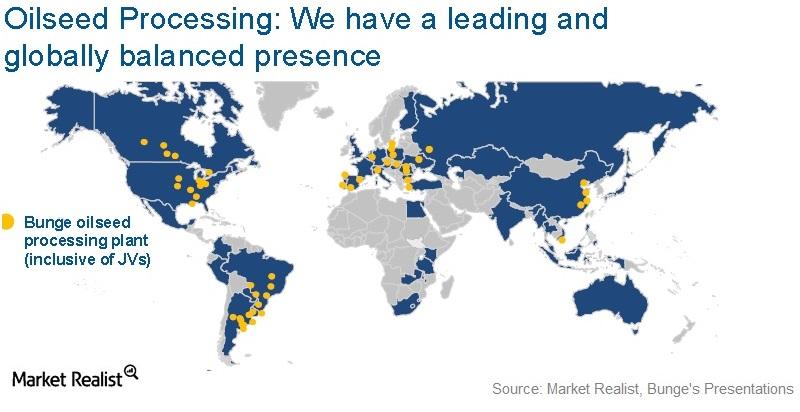 How Is Bunge Expanding Oilseed Segment's Global Presence?
Oilseeds segment
Bunge's (BG) Agribusiness segment also consists of the Oilseeds segment. The major agricultural commodities in this segment are soybeans, rapeseed, canola, and sunflower seed. In this segment, oilseeds are processed into vegetable oils and protein meals. These products are mainly used by the food, animal feed, and biodiesel industries.
In the Oilseeds segment, Bunge's focus has been to enhance its footprint in the major growth regions. Bunge is aiming to add capacity by replacing older and less efficient plants with joint ventures or partnerships. The company's distribution and risk management strategies in this segment have also been effective.
Article continues below advertisement
Maintaining global presence
Bunge maintains a balanced footprint with 29% capacity in North America through soybean and canola and 37% in South America through soybean alone. It also holds 19% of its capacity in Europe through soybean, rapeseed, and sunseed, and 15% of its capacity in Asia through soybean.
In April 2016, Bunge's oilseed processing facility in Nikolayev, Ukraine, became operational. This facility is strategically located adjacent to Bunge's deep water port terminal, which is a logistical benefit that helps the company serve customers in MENA, EU, and India. As per data from the USDA (United States Department of Agriculture), global soybean consumption has increased at a CAGR of 7% in 2015-16.
A major competitor for Bunge in this segment is Archer Daniels Midland (ADM), which has a similar business in its Oilseeds processing segment. ADM's segment earned $25.2 million in revenue and $1.6 million in operating profit in its last reported quarter. Cargill, another peer for Bunge, is a privately held agricultural product company in the US.
Other peers in Europe include Louis Dreyfus Group and Glencore International (GLEN) while Wilmar International (SGX) and China National Cereals and Oils and Foodstuffs are among the others in Asia. To get exposure to Bunge, you can invest in the VanEck Vectors Agribusiness ETF (MOO) and the iShares MSCI Global Agriculture Producers ETF (VEGI), which invest 3.0% and 3.3%, respectively, in Bunge.