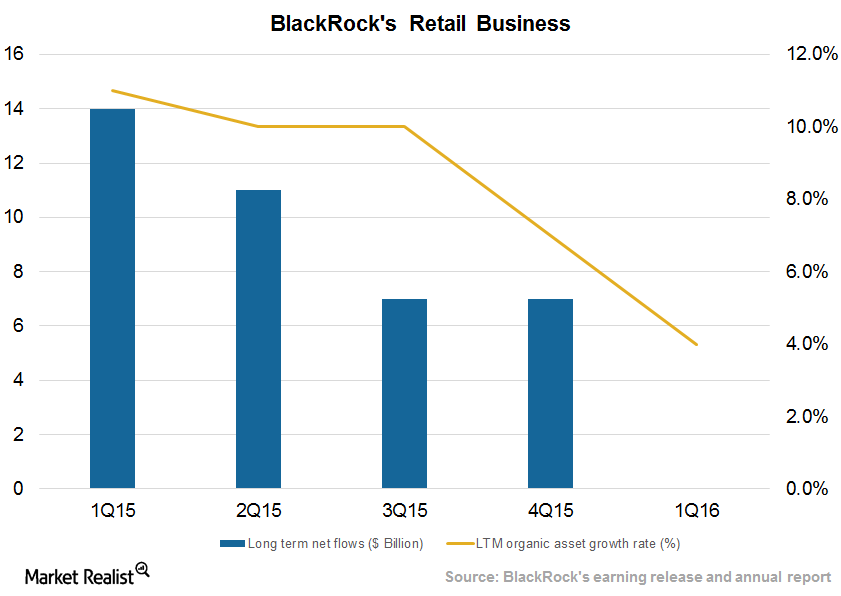 BlackRock's Retail Continues to Attract New Clients across Classes
Retail clientele
BlackRock's (BLK) retail business had assets under management (or AUM) of $542 billion as of March 31, 2016. Retail AUM formed 12% of the company's total AUM. Retail long-term inflows for the quarter stood at $1.0 billion, driven primarily by investment performance from the company's fixed income platform.
The company saw an outflow of $0.4 billion in the retail segment for the first time since the 2007 crisis. Fixed income saw net inflows of $2.1 billion, paced by flows into municipals, core bond, and high yield funds. BlackRock posted EBITDA (earnings before interest, taxes, depreciation, and amortization) of $4.7 billion in the last fiscal year. Let's compare this to EBITDA for BlackRock's peers:
JPMorgan Chase (JPM): $40.8 billion
Bank of New York Mellon (BK): $6.4 billion
State Street (STT): $3.6 billion
Together, these companies form 1.7% of the SPDR S&P 500 ETF (SPY).
Article continues below advertisement
Favorable exchange rates
Overall, AUM rose by $1 billion compared to the previous quarter. This was due to favorable foreign exchange movement, partially offset by net outflows and negative market changes. The negative market changes were led by equities, which fell by $711 million. This was partially offset by a rise of $1.5 billion in the fixed income category. The foreign exchange impact led to a rise in AUM of $2.1 billion. BlackRock's retail offerings' total base fees fell to $789 million compared to $837 million in the previous quarter. Retail base fees formed 35% of the company's total fees in 1Q16 compared to 34% in the previous quarter.
BlackRock has derived strong value from its retail business. Fixed income flows have offset a decline in equities. However, competition is driving down prices of various offerings. In the next part, we'll see how institutional investors are benefiting the company.