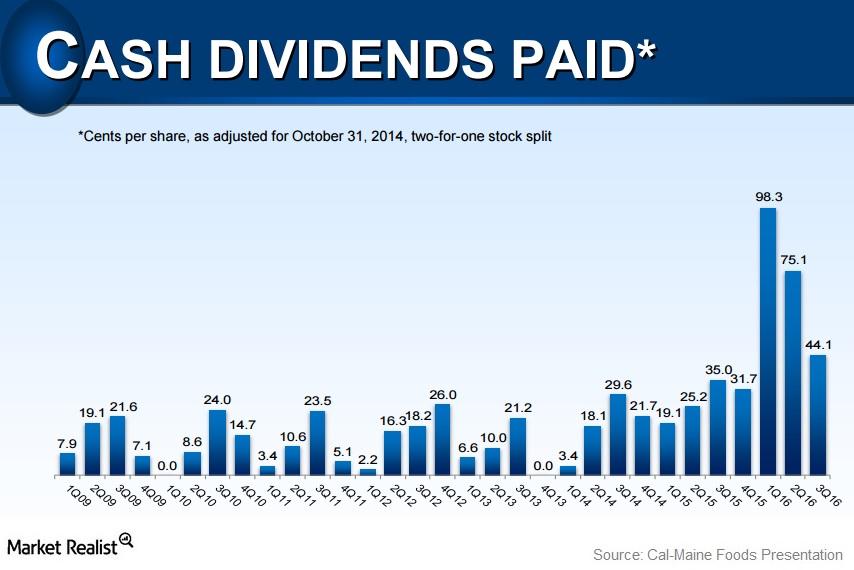 Analyzing Cal-Maine Foods' Variable Dividend Policy
Variable dividend policy
Cal-Maine Foods (CALM) has a variable dividend policy in place. In each quarter, when the company reports a net profit, it pays a cash dividend to shareholders in an amount equal to one-third of the quarterly income. The company doesn't pay a dividend when there isn't net profit during a quarter. The amount varies based on outstanding shares on the record date.
Article continues below advertisement
Article continues below advertisement
Dividend yield
Cal-Maine Foods has a dividend yield of 5.8% as of June 28, 2016. The company's management raised the dividend at a CAGR (compound annual growth rate) of 15.3% over five years. For fiscal 2015, the company recorded the highest annual net income of $161.3 million in its history. It returned $53.8 million in dividends to its shareholders for fiscal 2015. In fiscal 2016, the company has paid $1.73 per share in dividends to shareholders year-to-date.
Recent dividend declared
The company announced a cash dividend of ~$0.44 per share for its fiscal 3Q16 to holders of its common and Class A common stock. This dividend was paid on May 12, 2016, to shareholders of record as of April 27, 2016. The dividend declared wasn't consistent with the company's variable dividend policy.
The following are the dividend yields of its peers as of June 28:
The iShares Morningstar Mid Value ETF (JKI) invests 1.3% in Tyson Foods.The SPDR Dow Jones Small Cap Growth ETF (SLYG) also invests 0.5% in Cal-Maine.