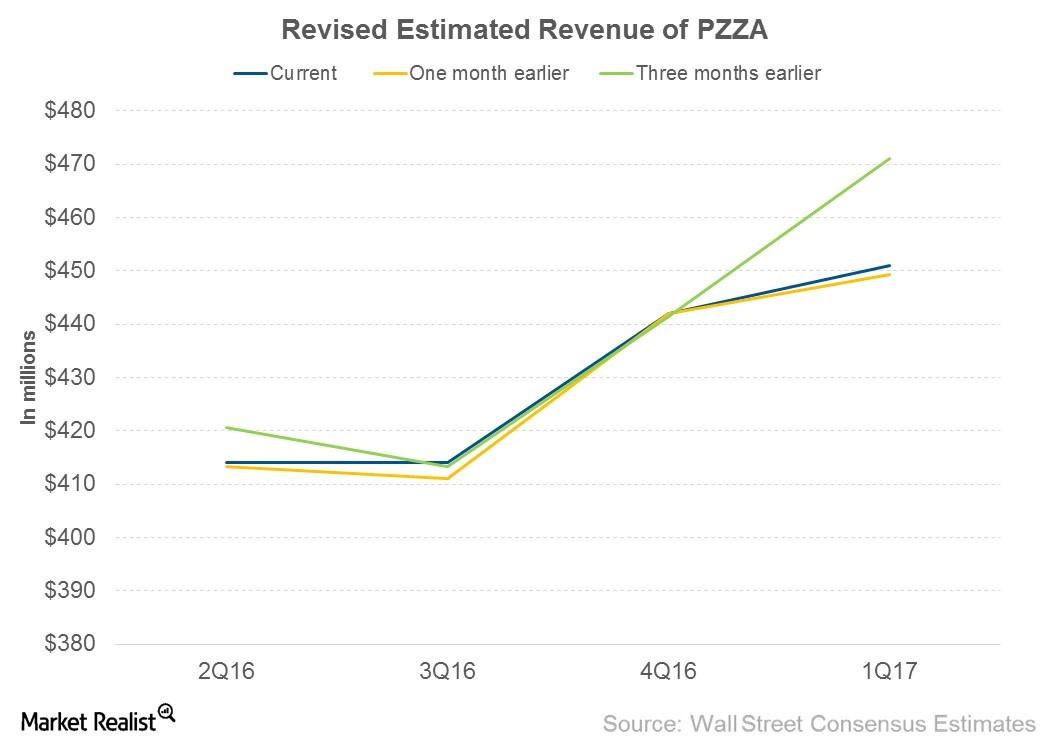 Why Have Analysts Raised their Revenue Estimates for Papa John's?
Sources of revenue
Papa John's (PZZA) classifies its operations into the following four main segments:
Domestic Company-Owned Restaurants
Domestic Commissaries and Other
International Operations
Domestic Franchising
In 1Q16, PZZA's domestic company-owned restaurants generated nearly 48% of Papa John's revenue, while domestic commissaries and others generated 39.4%.
Article continues below advertisement
Revised estimates
Analysts have marginally raised their revenue estimates for next four quarters for PZZA. One month earlier, analysts had forecasted that the company's revenue for next four quarters would be ~$1.716 billion. Now, they have raised the estimated revenue by 0.3% to $1.721 billion.
The increase in expected same-store sales growth estimates could be the reason that analysts raised their revenue estimates. The new estimated revenue represents a growth of 5.3% from the corresponding quarters of the previous year.
Revised same-store sales growth estimates
The steps adopted by Papa John's to provide clean and high-quality pizzas and to improve the digital experience of its customers in restaurants could have prompted analysts to raise their same-store sales growth for next four quarters. They have raised their forecasts for 2Q16, 3Q16, 4Q16, and 1Q17 to 2.3%, 3.8%, 4.1%, and 5.3%, respectively, from earlier estimates of 2.2%, 3.5%, 3.9%, and 5.3%.
In the next part, we'll look at revised estimated EBITDA margins and EPS of Papa John's for next four quarters.