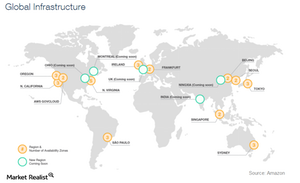 How Amazon Web Services Has Expanded Globally
Where does Amazon spend the majority of its cash capital?
Amazon (AMZN) currently dominates the cloud infrastructure space. AWS (Amazon Web Services) is used by more than 1 million customers.
Amazon reported cash capital expenditure of $1.2 billion in 1Q16, up from $871 million in 1Q15. This rise reflected "investments in technology infrastructure (the majority of which is to support AWS) and additional capacity to support. . .fulfillment operations," according to the company.
Amazon's peers Microsoft (MSFT) and Google (GOOG) are also investing heavily in their cloud platforms.
Article continues below advertisement
Article continues below advertisement
In January 2016, Amazon announced that it would expand its cloud services to South Korea with two availability zones. This will enable its customers to run low-latency and scalable applications. Amazon is also expanding its AWS service in Europe. It already has data centers in Ireland and Germany, and it plans to open a new one in the United Kingdom.
The AWS cloud operates in 33 availability zones in 12 regions around the world. Amazon plans to add another five to 11 availability zones over the next year.
Why AWS faces stiff competition in China
Alibaba (BABA) plans to invest $1 billion in its cloud-computing arm Aliyun in order to challenge the popular AWS. Aliyun leads the cloud computing market in China (FXI) and has a competitive edge over Amazon and Microsoft in the country due to its numerous clients and its ties to key government agencies.
AWS and Microsoft's Azure are working to increase their presences in China. In fact, Amazon has been targeting Chinese consumers over the past ten years by leveraging its Chinese web portal Amazon.cn, which is aimed at Chinese consumers and offers foreign-branded products.