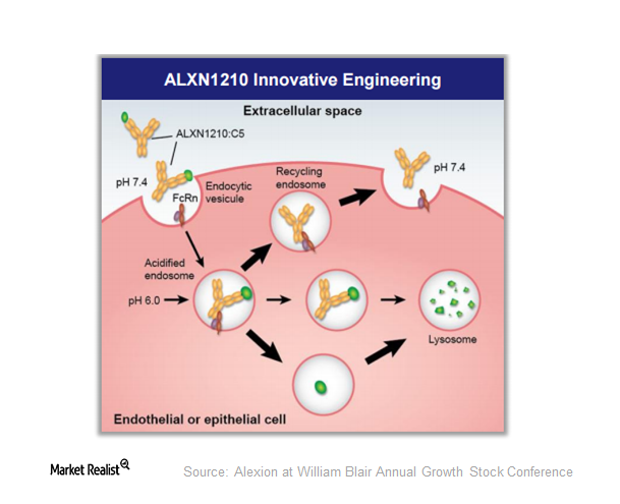 ALXN 1210: Another of Alexion's Important Pipeline Drugs
By Jillian Dabney

Jun. 30 2016, Updated 3:06 p.m. ET
ALXN 1210
On June 1, 2016, Alexion Pharmaceuticals (ALXN) won orphan drug designation (or ODD) from the European Commission for ALXN 1210. The pipeline drug is a highly innovative, long-acting C5 antibody that is being evaluated in patients with paroxysmal nocturnal hemoglobinuria (or PNH).
The molecule is being investigated in Phase 1 and 2 studies. The Phase 1 study data of the molecule showed that its mean terminal half-life was extended to 32 days, whereas Soliris's terminal half-life was nine days. ALXN 1210's longer terminal half-life suggests that the molecule "is suitable for longer dosing intervals than Soliris."
Article continues below advertisement
What is PNH?
PNH is "an ultra-rare blood disorder in which chronic, uncontrolled activation of complement, a component of the normal immune system, results in hemolysis," according to Alexion. The disease often goes unrecognized, and the delay in diagnosis ranges from one year to more than ten years.
PNH has been commonly diagnosed in patients with bone marrow disorders such as aplastic anemia and myelodysplastic syndromes. Similarly, it could be the underlying cause in patients with thrombosis of unknown origin.
To gain exposure to Alexion Pharmaceuticals while controlling excessive company-specific risk, investors can choose to invest in the iShares Nasdaq Biotechnology ETF (IBB). Alexion accounts for 3.0% of IBB's total holdings. Other major biotechnology companies under the fund's umbrella are Gilead Sciences (GILD), Amgen (AMGN), Celgene (CELG), and Biogen (BIIB).
In the next article, we'll discuss the key drug Soliris's additional labels.