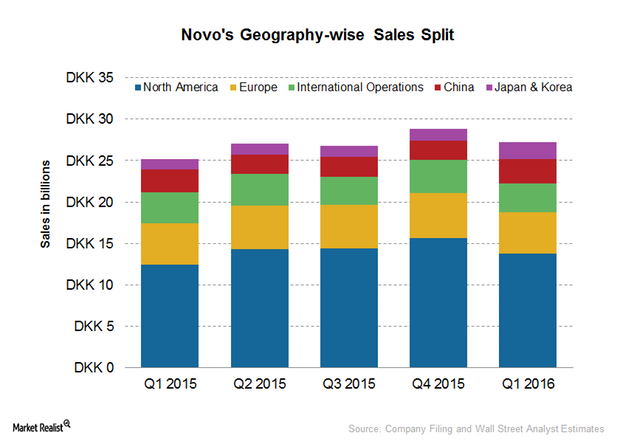 Novo's Geographical Sales Split in 1Q16
Segmental performance in the United States
Novo Nordisk's (NVO) sales in the United States rose annually by 12% in local currency in 1Q16. North America remained the major market for Novo, constituting ~50% of its total revenue. Europe followed, adding 18% to Novo's top line.
Of this total growth, ~64% came from the United States on a local currency basis. Victoza, Levemir, and Saxenda were Novo's major US sales drivers in 1Q16.
Recently, Novo lost a contract for NovoLog in the United States. This will reduce the volume of the drug in fiscal 2016. Novo's management admitted that considering rebates, the value of the contract was modest. This drove the company's decision not to participate in the contract at that level.
Article continues below advertisement
Article continues below advertisement
International Operations
International Operations sales rose by 15% in local currency in 1Q16. Followed by the United States, International Operations added a share of 23% to overall growth in terms of local currency. For its international operations, Novo was positively impacted by "significant inflationary effects in Argentina and Venezuela."
NovoRapid and NovoSeven, being the major sales drivers, contributed 23% and 17% to overall International Operations growth. Victoza and Tresiba also contributed significantly to growth in the region.
Europe
The sales in Novo's European operations rose by a meager 1%. A contracting pre-mix segment and Tresiba's ceased distribution in Germany could have offset growth. NovoEight, Xultophy, Victoza, and NovoSeven were the major revenue contributors in the European region.
Article continues below advertisement
China
In 1Q16, Novo experienced 3% sales growth in local currency terms in China, driven by rising sales of modern insulin. However, following the local competition in the country, human insulin sales fell.
Pacific region
The sales in the Pacific region rose by 7% in local currencies. Tresiba's strong uptake in Japan and its GLP-1 market expansion in Japan and Canada supported growth in the region. Victoza proved to be a winner in the region.
Novo's key products compete with anti-diabetics from Sanofi (SNY), AstraZeneca (AZN), and Eli Lilly (LLY) for market share. If a competitor is successful in launching a new product, it makes others lose market share and adversely affects their sales.
To diversify the risk of direct investment in Novo, you can look for options such as the PowerShares International Dividend Achievers ETF (PID). PID has 0.40% of its total holdings in Novo Nordisk.
Let's discuss Novo's product category–wise performance in the next part of the series.