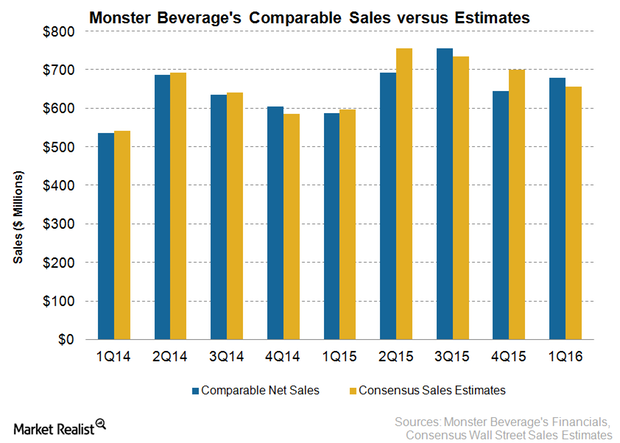 Monster's 1Q16 Sales Benefit from Strategic Deal with Coca-Cola
1Q16 sales beat estimates
Monster Beverage's (MNST) net sales in 1Q16 ended March 31, 2016, were $680.2 million, ahead of the consensus analyst sales estimate of $656.9 million. The company exceeded analyst estimates in only one of the four quarters in 2015.
Article continues below advertisement
What drove 1Q16 sales?
Monster Beverage's sales in 1Q16 increased by 15.9% from the comparable sales in 1Q15. The comparable sales in 1Q15 exclude the impact of a one-time revenue of $39.8 million from the acceleration of deferred revenue associated with the termination of distribution contracts. As part of its strategic deal with Coca-Cola (KO), Monster Beverage transitioned ~84% of the targeted distribution rights in the US from third-party distributors to the Coca-Cola System in 1Q15 and an additional 5% in May 2015. Monster Beverage and Coca-Cola together account for 8.8% of the iShares U.S. Consumer Goods ETF (IYK).
The 1Q16 growth in Monster Beverage's sales was driven by a 12.3% growth in its Finished Products segment, excluding the acceleration of the aforementioned deferred revenue in 1Q15. Monster Beverage's Finished Products segment is made up of the Monster Energy brand products.
The Concentrate segment contributed $55.9 million sales in 1Q16 with no corresponding sales in 1Q15. The Concentrate segment of Monster Beverage primarily includes the concentrates for the strategic energy drink brands like NOS, Burn, Relentless, and other brands that were acquired from Coca-Cola in June 2015.
Note that 1Q15 included $31.3 million of sales from the Other segment with no such corresponding sales in 1Q16. The other segment consists of non-energy brands that Monster Beverage disposed to Coca-Cola in June 2015.
Article continues below advertisement
Also, currency headwinds negatively impacted Monster Beverage's 1Q16 net sales by $12.3 million. The 1Q16 revenue of Coca-Cola and PepsiCo (PEP) declined by 4% and 2.9%, respectively, due to currency headwinds. Dr Pepper Snapple (DPS), the third-largest soda maker in the US, has lower exposure to international revenue compared to its peers. The 1Q16 sales of Dr Pepper Snapple increased by 2.5%.
Progress of distribution transition
Coca-Cola became the preferred global distribution partner for Monster Beverage pursuant to the strategic deal between the two entities. Aside from the benefit of additional sales from the Coca-Cola energy drink brands, Monster Beverage is also benefitting from Coca-Cola's extensive distribution network. Monster Beverage disclosed that Coca-Cola bottlers have expanded the number of outlets in which Monster Energy drinks are available and that the company is seeing improvements in its distribution levels.
We'll discuss more on Monster Beverage's distribution transition in international markets in the next part of this series.