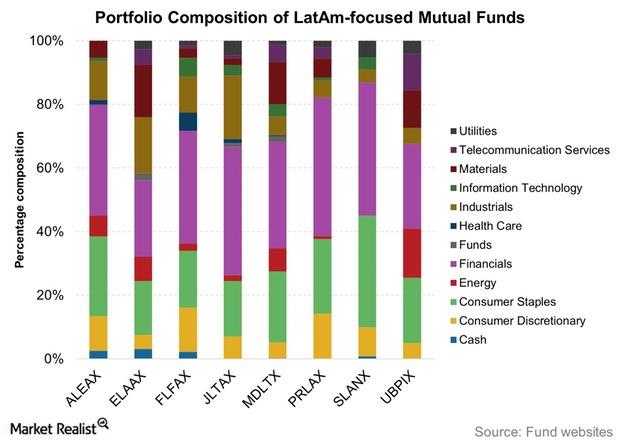 Mark Mobius Is Investing in Brazil: Should You?
LatAm-focused mutual funds
In this series, we have reviewed eight LatAm-focused mutual funds (BDERX) in terms of their sectoral changes over the past year and the possible reasons for their performances in the first part of 2016. We looked at the sectors and stock picks of each fund individually and showed you which picks worked and which didn't.
We also compared the performances of these funds with two ETFs: the iShares Latin America 40 ETF (ILF) and the iShares MSCI Emerging Markets Latin America ETF (EEML).
Article continues below advertisement
Portfolio comparison
Most of the funds investing in Latin America have their largest geographic exposures to Brazilian equities (EWZ). However, there's one fund (ELAAX) that favors Mexican stocks (EWW) over Brazilian stocks. With the rally in Brazilian stocks, the sectoral allocations of several of the funds under review have changed in the past few months.
The financials sector is unequivocally the most popular sector for investment. In 2015, some funds had higher exposures to the consumer staples sector than to the financials sector (FLFAX) (UBPIX). However, this has changed due to the recent surge in financials stocks. Three of the eight funds under review (JLTAX) (PRLAX) (SLANX) have more than 40% of their assets invested in the financials sector.
Mark Mobius on Brazil
In an interview with Bloomberg Markets Middle East, Mark Mobius stated that Brazilian stocks had not yet taken full cognizance of the potential removal of Dilma Rousseff as president. Due to this, Mobius is continuing to put money into Brazil.
Mobius was quoted saying, "If you look at where we're heading compared to previous highs, we've got a long way to go. Maybe another 100 to 200 percent."
Should you be heading for LatAm too?
Our analysis has shown that for the most part, passive funds have done better than active funds investing in the LatAm region. Until you're interested in investing in a leverage strategy (UBPIX), you should likely stick to passive funds for investing in the region. They're liquid and can be traded easily on exchanges, in case you want to liquidate.
If you're already invested in mutual funds investing in the region, it's likely best to stay invested for now. With a senate committee voting overwhelmingly for Rousseff's impeachment, it's very likely that the full senate will lean toward that decision as well. If this happens, it should be a celebratory occasion for Brazilian stocks, which will be reflected in mutual funds.
With the macroeconomic gloom surrounding Brazil, the impact of this surge is expected to be short term. The replacement of a political leader by no means indicates improvement in underlying problems. It just shows that fresh minds will be at work to find a solution.
Until they do, we see little reason to stay put in LatAm stocks and mutual funds for the long term. Brazil has tremendous potential, but misdirection will keep it on the hunt for some time.
For more analysis on mutual funds, please visit Market Realist's Mutual Funds page.