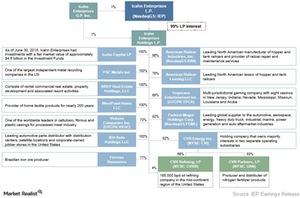 A Look at Icahn Enterprises' Business Model
Icahn Enterprises' background and business
Icahn Enterprises (IEP) is a diversified MLP company. Through its 99% owned subsidiary Icahn Enterprises Holdings, Icahn Enterprises is engaged in ten business segments. These segments include investment management, automotive, energy, railcar, metals, gaming, food packaging, real estate, and home fashion.
Carl Icahn and his affiliates own approximately 89% of Icahn Enterprises' outstanding depositary units as of September 2015.
Article continues below advertisement
Article continues below advertisement
Icahn Enterprises' business model, simplified   
In simple terms, we can classify IEP as a mutual fund. Similarly, IEP owns and controls a portfolio of companies selected by its team of professionals. This team comprises investment, legal, and operations groups.
Like a mutual fund, IEP is valued on a net asset value basis. This means the market value of a business minus its liabilities, which is then divided by the number of investor shares outstanding.
Icahn Enterprises' strategy and core strength
IEP's investment strategy involves identifying and purchasing undervalued businesses and assets at distressed prices. It mostly acquires undervalued assets through the purchase of securities.
Later, through its management personnel, IEP works toward improving and expanding its acquired entities' businesses. This strategy has helped IEP to bring in strong returns over the years.
Berkshire Hathaway (BRK-B), Leucadia National (LUK), and Loews (L) are some of Icahn's peers that have wide ranges of holdings. However, Icahn can't be strictly compared to any other company due to its different portfolio holdings in diverse sectors.
Since April 2015, IEP has fallen ~33% compared to the SPDR S&P 500 ETF (SPY), which has fallen 1%. On a year-to-date basis, Leucadia and Loews have fallen 26% and 7%, respectively. BRK-B has risen 3.4% in the same period.
Series overview
In this series, we'll analyze Icahn's stock performance and discuss its investment, energy, automotive, metals, and real estate segments. We'll also have a look at Icahn's mining, railcar, home fashion, food packaging, and gaming segments.
We'll discuss what factors have led to Icahn's high dividend yield, its major risks, and its valuation techniques and recommendations.
Let's begin with a look at Icahn's stock performance.