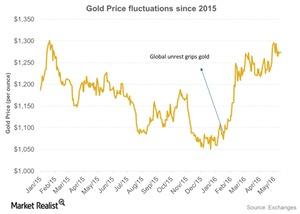 Why Is JPMorgan Chase Positive on Gold?
Negative rates may help gold
After seeing three straight years of losses, gold
(GLD)
performed extremely well at the beginning of 2016. As gold's price continued to surge, many of Wall Street's largest banks
(IYF)
flocked to it. Such moves by these large bankers significantly impacted investors' views and the overall market sentiment.
According to J.P. Morgan Private Bank's
(JPM)
global head of Fixed Income, Currencies, and Commodities, Solita Marcelli, a bull run for gold may be expected sooner rather than later.
Marcelli mentioned that the global rate of interest's going negative could significantly impact gold. With rates of less than zero on offer, investors could prefer parking their money in gold. Gold doesn't demand a yield from investors. Haven appeal may also come into play.
Marcelli also mentioned that investors could seek to hedge against overall market volatility and that gold would remain attractive in a world where bonds and US rates also may cease to be riskless assets. Central banks across the globe may indulge in gold buying, with the values of their currencies diminishing substantially. With interest rates' being negative, banks may want to diversify their reserves into gold.
Article continues below advertisement
Article continues below advertisement
$1,400 in 2016?
Marcelli said, "As a nonyielding asset, [gold] has a minimal storage cost, so when you compare it to negative-yielding assets, it actually has a positive carry." She continued, "Gold can go a lot higher. We are telling clients to position for a new and very long bull market."
The near-term correction of some extreme long bets could see gold's price fall to $1,260 or below before upward movement takes over. Marcelli remains convinced that gold will grind higher, with its key $1,400 level easily obtainable in the current year.