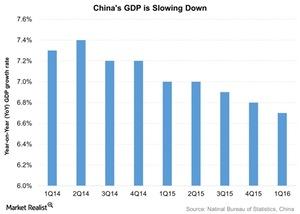 When China Sneezes, the World Catches a Cold!
China is the world's second-largest economy. Its economy started going downhill due to sluggish global demand. This impacted its trading partners.
Two recent Market corrections
With the rapid wave of economic expansion, China emerged as the world's second-largest economy in 2010. It's behind the US. It was the fifth-largest economy in 2002. In the last decade, China's GDP (gross domestic product) grew by 10.6%. China became the second-largest importer of goods and services in the world. Thailand, Indonesia, South Africa, Brazil, Japan, the Eurozone, the United Kingdom, and the US were its main trading partners.
Since 2012, China's economy started going downhill due to sluggish global demand. This impacted its trading partners. As a result, when "China sneezes, the world catches a cold."
Article continues below advertisement
Article continues below advertisement
Key economic data might be weaker 
China's GDP in 1Q16 came in at 6.7%—down from 6.8% in 4Q15. The growth rate fell to 6.9% in 2015—the lowest level in the last 25 years. It fell from 7.3% in 2014. It was widely argued that the actual numbers might be much weaker than the official data. According to Marc Faber, the author of The Gloom, Boom & Doom Report, "My sense is that at very best, the economy is growing at around 4% per annum, but it could be lower."
China's foreign trade is shrinking at a rapid pace due to weakness in global demand and a slowdown in export and import trade with Asian and western nations. In 2015, China's foreign trade, in US dollar terms, shrank by 8% YoY (year-over-year). Its exports were down 2.9% YoY. China's imports fell 14.3% YoY. In April 2016, China's exports fell 1.8% YoY. Its imports fell 10.8% YoY.
China's manufacturing sector has been struggling due to sluggish demand and overcapacity. China's official PMI (purchasing managers' index) is just above the threshold reading of 50. The Caixin China Manufacturing PMI has been below the threshold for the last 13 months.
China loosened its monetary policies since late 2014 and increased spending on infrastructure investment. However, China's economic outlook appears to be grim right now. China's government might have to step up its efforts by introducing more stimulus reforms to boost the economy.
Impact on global equity indices
In 2016, the SSE Composite Index is down by 14.2%. The S&P 500 is up by 1.7%. The FTSE EuroTop 100 is down by 6.7%.
The slowdown in the Chinese economy impacted the performance of funds like the Matthews China – Investor Class (MCHFX), the Deutsche X-trackers Harvest CSI 300 China A-Shares (ASHR), the iShares China Large-Cap (FXI), and the iShares MSCI China (MCHI). MCHFX fell 14.9% YTD (year-to-date) while ASHR, FXI, and MCHI fell by 10.9%, 8.5%, and 8.5%, respectively, YTD. These funds let you invest in popular Chinese companies like Tencent Holdings (TCEHY), Alibaba Group Holding (BABA), and CNOOC (CEO).
In the next part, we'll look at hedge fund managers' opinions about China at the 2016 SALT Conference.