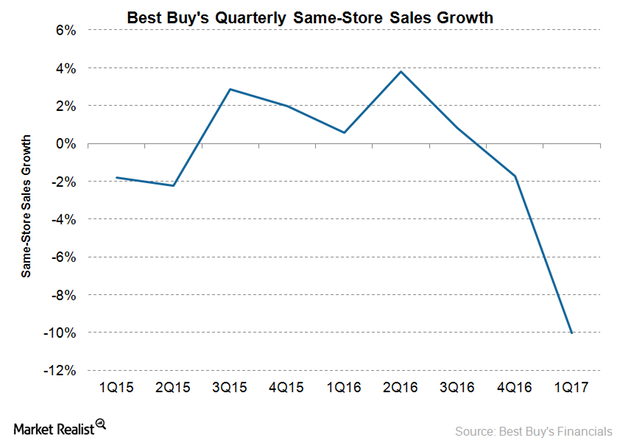 Best Buy Wants to Improve Sales: What's It Got up Its Sleeve?
Trend in same-store sales
Best-Buy's (BBY) same-store sales fell 0.1% in fiscal 1Q17, which ended on April 30, 2016. The company's same-store sales fell 1.7% in 4Q16 but rose 0.6% in 1Q16. As we mentioned in Part 2 of this series, Best Buy recorded strong sales growth in health and wearables, home theater, and appliances, which was offset by continued softness in mobile phones and tablets in 1Q17.
The same-store sales of peers Aaron's (AAN) and GameStop (GME) fell 2.1% and 6.2%, respectively, in the comparable first quarter. In the three months ended April 30, 2016, Conn's (CONN) saw a 3.9% decline in the same-store sales for its home appliances category and a 14.2% decline in same-store sales for its consumer electronics category.
Article continues below advertisement
Initiatives to improve sales
Best Buy plans to grow its sales through a series of initiatives across merchandising, marketing, online channels, stores, supply chain, services, and customer care.
In its appliances category, the company plans to add more Pacific stores-within-stores to capitalize on the growing demand for appliances. In 1Q17, Best Buy leveraged its 176 Pacific kitchen and home stores-within-a-store to deliver a 14% increase in revenue. The iShares Russell Mid-Cap Value ETF (IWS) has 0.3% exposure to Best Buy.
In home theater, the company plans to capture the growth opportunities in 4k and large-screen technologies by rolling out 376 new LG stores-within-stores. The company already has a strong network of Sony (SNE) and Samsung (SSNLF)(005930.KS) stores-within-stores.
In its mobile business, Best Buy added 25 additional Verizon and AT&T stores-within-a-store. The company added 250 stores-within-a-store in the second half of fiscal 2016. However, you should note that the mobile phone category remains challenging as industry demand is still soft. High penetration in the smartphone category, along with low consumer demand for current product offerings, is hurting the phone category. The company believes iconic new phone launches can drive renewed growth in this category.
We'll discuss analysts' recommendations and Best Buy's fiscal 2Q17 outlook in the next part of this series.