How Could Foreign Regulations Impact Netflix?
Netflix and Amazon's Prime Instant Video service could be forced to ensure that 20% of their content catalogs consist of European content.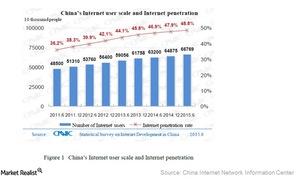 Foreign regulations governing content
This month, CNBC reported that in Europe (IEV), streaming service providers such as Netflix (NFLX) and Amazon's Prime Instant Video service (AMZN) could be forced to ensure that 20% of their content catalogs consist of European television shows and films. The decision could be just one change required to comply with the European Union's broadcasting rules.
In Europe, it is usually mandatory for national broadcasters to keep 20% of their content European, but so far, streaming services such as Netflix have been excluded from it. This legislation, if implemented, could be a blow for Netflix as it pursues its original programming strategy in Europe.
Article continues below advertisement
Article continues below advertisement
According to the CNBC report, Netflix, reacting to the news, stated that "rigid numerical quotas risk suffocating the market for on-demand audiovisual media services," adding that "an obligation to carry content to meet a numerical quota may cause new players to struggle to achieve a sustainable business model."
Foreign regulations such as these could be a hindrance for Netflix's international expansion. China (FXI) is another market where Netflix could face content issues.
Why could Netflix face a problem in China?
In its fiscal 1Q16 letter to shareholders, Netflix stated that it continues to explore its options in China. The company is interested in the Chinese market because of the country's rising Internet penetration. According to a January 2016 report from the China Internet Network Information Center, and as shown in the above chart, China had 668 million Internet users and a 48.8% Internet penetration of as of June 2015.
However, Netflix's original programming could face censorship issues in the country. The Chinese government has censored Time Warner's (TWX) HBO's Game of Thrones.
Netflix believes that it will take time for it to enter the Chinese market. There's also a possibility that the company may have to enter into a joint venture with a Chinese partner to offer content in China. Piracy is another issue that Netflix could face in the Chinese market.
Time Warner (TWX) makes up 0.32% of the SPDR S&P 500 ETF (SPY). SPY has an exposure of 3.5% to the computer sector and a 0.17% exposure to 21st Century Fox (FOXA).