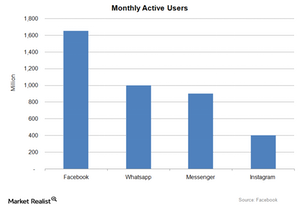 How Facebook Plans to Monetize WhatsApp
By Amit Singh

Updated
Facebook plans to monetize WhatsApp differently
WhatsApp's strong presence in direct messaging and international markets makes it a highly strategic investment for Facebook (FB).
Until now, most analysts believed that subscription fees would be one of WhatsApp's primary avenues to generate revenue. However, instead of charging subscription fees, Facebook will try to earn revenue by providing services to the businesses. The company said, "Starting this year, we will test tools that allow you to use WhatsApp to communicate with businesses and organizations that you want to hear from. That could mean communicating with your bank about whether a recent transaction was fraudulent, or with an airline about a delayed flight. We all get these messages elsewhere today – through text messages and phone calls – so we want to test new tools to make this easier to do on WhatsApp, while still giving you an experience without third-party ads and spam."
Although the business side is not the main focus of WhatsApp, Facebook could announce some monetization initiatives for WhatsApp given its popularity in Europe (EFA), Latin America, and Asia coupled with large user base.
Article continues below advertisement
WhatsApp dropped the subscription fee
Facebook doesn't think monetization is a priority for WhatsApp. The company announced that the $0.99 annual fee it charged for WhatsApp has been scrapped. Earlier, WhatsApp introduced fees, forcing new users to pay an annual $0.99 subscription after the first year. The company stated, "As we've grown, we've found that this approach hasn't worked well."
Further, in an era where Internet companies like Google (GOOG), Twitter (TWTR), and LinkedIn (LNKD) are competing for hard-to-get advertising market share, Facebook's WhatsApp promised to remain ad-free. The company stated that WhatsApp wouldn't follow Facebook's and Instagram's way of introducing ads.