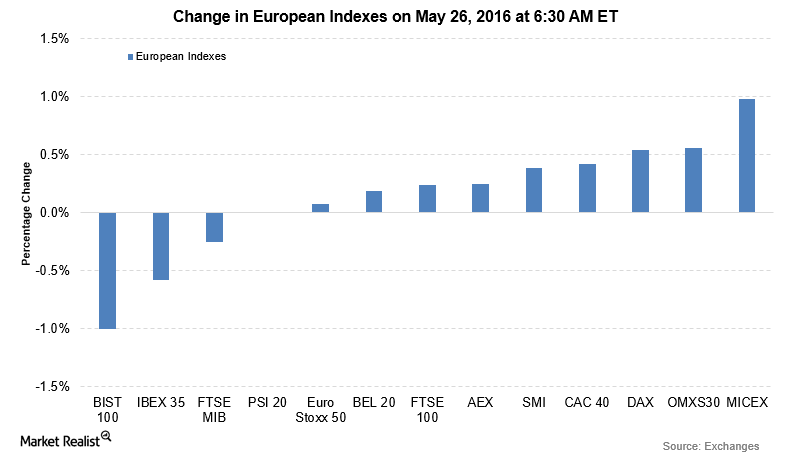 European Market Flat as Investors Await G7 Leaders' Brexit Views
European markets mostly trading flat
Major European indexes (DBEU) were trading with caution on May 26, 2016, as they awaited G7 leaders' views on the Brexit referendum.
The SPDR Euro Stoxx 50 ETF (FEZ) was trading flat, with a slight rise of 0.08% as of 6:30 AM EST on May 26. The German DAX and the French CAC 40 were also trading with positive biases. They rose by 0.54% and 0.42%, respectively.
Non-Eurozone markets were also trading on positive biases. The United Kingdom's (FKU) FTSE 100 rose by 0.24%. Sweden's (EWD) OMX Stockholm 30 rose by 0.56%. The Russian (RSX) MICEX was the leader among the European markets. It rose by 0.98%.
Article continues below advertisement
UK GDP estimate in line with forecast
The United Kingdom's Office for National Statistics published its second estimate of UK first-quarter GDP. Quarter-over-quarter, the GDP increase came in at 0.4%, with no change from the initial estimate.
The United Kingdom's year-over-year (or YoY) GDP estimate was revised downward by 0.1% to 2.0%. First-quarter business investments fell by 0.5% on a YoY basis and 0.4% on a quarter-over-quarter basis. The British Banker's Association reported a dip in mortgage approvals. Approvals came in at 40,000 compared to the previous figure of 44,000.
Contrasting data release from Europe
Italian retail sales fell by 0.6% on a month-over-month basis, while they saw a rise of 2.2% on a YoY basis.
Sweden also recently released a flurry of data. Business confidence and consumer confidence levels in the country were seen falling below forecasts, coming in at 103.7 and 96.0, respectively. The balance of trade came in slightly above forecasts, at 4.4 billion Swedish krona. The Producer Price Index saw a fall of 0.9% month-over-month in April 2016.
Swiss industrial data came out on a positive note, with industrial orders falling by 2.2%, better than the forecast of a 4.7% fall. Industrial production rose by 1.0% against the forecast of a 3.3% fall.