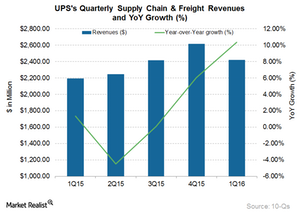 How Coyote Acquisition Drove UPS's Supply Chain & Freight Segment
By Samuel Prince

Updated
UPS's Supply Chain & Freight segment in 1Q16
In the previous part of the series, we looked at Unite Parcel Service's (UPS) International Package segment revenues. Now let's look at UPS's Supply Chain & Freight segment. The major divisions in this segment include Forwarding & Logistics, Freight, and Other. In 1Q16, this segment's revenue increased by 10.4% to $2.4 billion, from $2.1 billion in 1Q15.
The acquisition of Coyote Logistics in early 2015 helped UPS's Supply Chain & Freight revenues increase by double digits in 1Q16. The Forwarding & Logistics division accounts for the highest revenue share in the segment. This division recorded a double-digit increase of 19.2%, the highest among all three divisions.
In the Freight Forwarding unit, international air freight kilos were down. This was mainly due to a combination of repricing efforts in 2015 and an overall softer market.
Article continues below advertisement
LTL revenues per hundredweight 
For 1Q16, the LTL (less than truckload) revenues per LTL hundredweight increased by 2.1% to $23.25, from $22.77 in 1Q15. However, LTL shipments declined from 2.5 million in 1Q15 to 2.4 million in 1Q16. LTL gross weight declined by 9.3%. UPS's focus on serving higher-yielding middle-market customers increased LTL revenue per hundredweight. On the other hand, total shipments slumped as a result of tough market conditions.
Outlook
UPS expects soft market conditions in the Air Freight Forwarding and UPS Freight markets. The overall Supply Chain & Freight segment is expected to decline due to certain pricing actions by the company in 2015. This segment's revenue is expected to increase by 15%–20%, led by the inclusion of Coyote Logistics for the full year. In the long run until 2019, the company targets an annual revenue growth rate of 5%–7%.
UPS is part of the SPDR S&P Transportation ETF (XTN). XTN holds 2.6% in UPS. UPS's major competitor, FedEx (FDX), makes up 2.8% of XTN. The other prominent transportation and logistics stocks included in XTN are J.B. Hunt Transport Services (JBHT) and Expeditors International of Washington (EXPD).
In the next part, we'll focus on UPS's operating margins and management's insights for 2016 and beyond.