Company Overview: An Introduction to Intuitive Surgical
Intuitive Surgical is a pioneer of minimally invasive robotic surgery. It develops and manufactures da Vinci surgical systems and related instruments.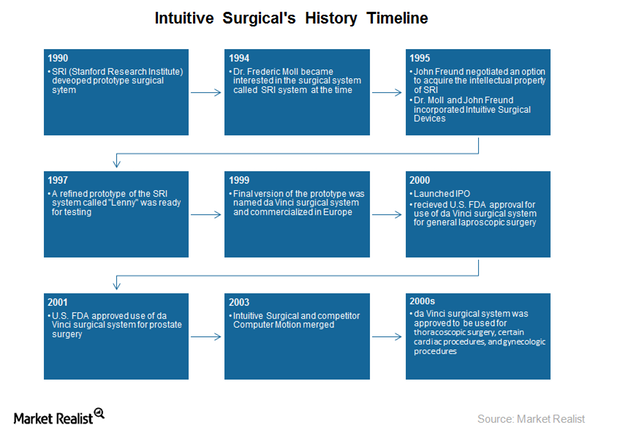 A brief overview of Intuitive Surgical
Headquartered in Sunnyvale, California, Intuitive Surgical (ISRG) is a pioneer of minimally invasive robotic surgery. It develops and manufactures da Vinci surgical systems and related instruments and accessories to enable minimally invasive surgeries with better outcomes and shorter hospital stays.
Intuitive Surgical is part of the S&P 500 and the NASDAQ 100. The company's flagship surgical system, the da Vinci surgical system, was used to perform around 652,000 procedures worldwide in 2015 compared to 540,000 procedures in 2014.
Article continues below advertisement
Article continues below advertisement
A brief history of Intuitive Surgical
In the early 1990s, the Stanford Research Institute (or SRI) developed a robotic surgical system prototype that garnered the interest of DARPA (Defense Advanced Research Projects Administration) for performing remote surgeries on soldiers wounded on the battlefield.
In 1994, Dr. Frederick Moll expressed interest in the robotic surgical system for non-military applications. In 1995, he was introduced to John Freund, who negotiated a technology license for the robotic surgical system from SRI and incorporated Intuitive Surgical devices along with Dr. Moll.
The final version of the prototype, the da Vinci surgical system, was commercialized in 1999 in Europe and in 2000 in the United States. Intuitive Surgical was sued for patent infringement in August 2000 by its close competitor Computer Motion, an early entrant into the robotic surgery space with its ZEUS robotic surgical system.
Computer Motion was later acquired by Intuitive Surgical in 2003. In June 2000, Intuitive Surgical went public with a $46 million initial public offering.
In 2000, Intuitive Surgical received its first FDA approval for the use of its robotic surgical system for general laparoscopic surgery for the treatment of gallbladder and gastroesophageal diseases.
Over the years, the FDA has approved the system for a range of surgical applications, including prostate surgery, thoracoscopic surgery, certain cardiac procedures, and gynecologic procedures.
Article continues below advertisement
Procedure mix
Intuitive Surgical consists of two categories of procedure business, including cancer and other highly complex procedures and less complex benign procedures. Lower-priced basic surgical systems are provided by the company for less complex procedures, whereas the fully featured products including dual console, firefly enabled systems are provided for more complex procedures.
The company has potential competitors in Medtronic (MDT), Verb Surgical—a joint venture of Johnson & Johnson (JNJ) and Google (GOOG)—and other smaller companies such as MedRobotics and TransEnterix (TRXC). Investors may want to look at the iShares Core S&P 500 ETF (IVV) for diversified exposure to ISRG.
In this series
In this series, we'll discuss ISRG's da Vinci surgical system along with the company's business profile and growth strategy. We'll also try to understand the company's business model and take a look at its geographical profile, sales model, and research and development strategy.
In the end, we'll briefly discuss the company's historical stock performance, valuation, and analysts' recommendations.