A Closer Look at Intuitive Surgical's Business Strategy
Intuitive Surgical aims to include a larger patient population under its MIS treatments and to provide better surgery outcomes and lower recovery times.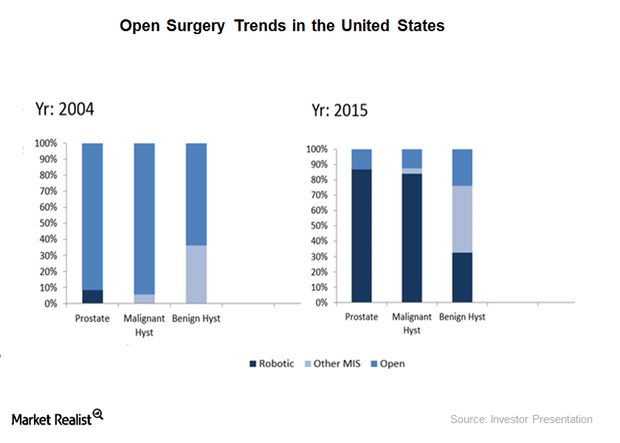 ISRG's business strategy
Intuitive Surgical (ISRG) aims to include a larger patient population under its MIS (minimally invasive surgery) treatments and to benefit patients with better surgery outcomes and faster recovery times.
The company strives to achieve this goal by bringing value to patients, surgeons, and hospitals through technological advancements and the evolution of its surgical systems.
Other major medical device companies focused on providing devices to enable expansion in MIS procedures include Boston Scientific (BSX), Medtronic (MDT), and Abbott Laboratories (ABT). Investors seeking diversified exposure to Intuitive Surgical can invest in the iShares Russell Mid-Cap ETF (IWR).
As seen in the diagram above, open surgery remains common in the United States, which represents a large potential target base for da Vinci procedures.
Article continues below advertisement
Article continues below advertisement
Strategy goals
In order to improve its target surgical procedures, Intuitive Surgical is focused on the following strategic goals:
converting target open procedures to da Vinci MIS procedures
facilitating difficult MIS operations that are currently performed by a limited number of highly skilled surgeons
facilitating a single-port surgical option for less invasive procedures for improved outcomes
In order to achieve these goals, the company has undertaken various initiatives. These include an increased number of system placements, a rise in placements under operating leases, and an expansion of the da Vinci system across general surgery specialities, primarily hernia repair and colorectal surgery.
Other initiatives include new product launches such as a vessel sealer, Firefly, a 30 mm stapler, and table motion. The da Vinci SP is another major innovation currently under investigation. It's focus is on transanal, transoral, and transabdominal procedures.
2016 growth strategy
Intuitive Surgical is focused on expanding its da Vinci MIS procedures in thoracic and general surgery, especially in hernia repair and colorectal surgery. It's also focused on minimizing the total cost of care to provide value to customers and expanding across potential high-growth segments internationally, especially in Europe and Asia.
As of March 31, 2016, Intuitive Surgical had installed 3,660 da Vinci systems worldwide, including 2,431 in the United States, 616 in Europe, 441 in Asia, and 172 in its remaining international markets.