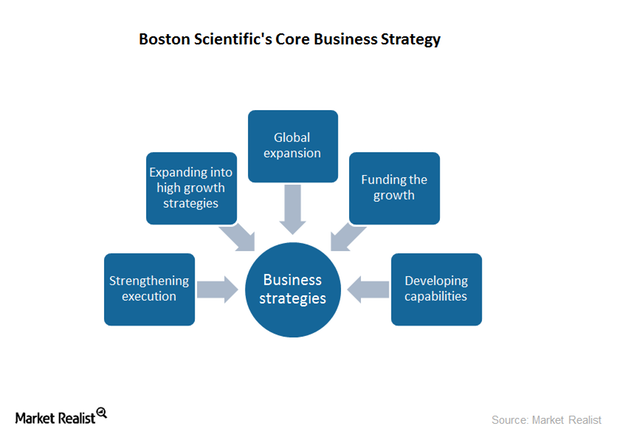 The Business Strategies Driving Boston Scientific's Growth
By Sarah Collins

May. 17 2016, Updated 11:08 a.m. ET
Overview
In the past few years, Boston Scientific (BSX) has witnessed steady business growth and expansion across its market segments and geographies. This growth followed the company's reorganization, implementation of cost containment measures, and other strategic initiatives. 
Boston Scientific's core business strategies leading the company's growth for the last few years include strengthening execution, expanding into high-growth strategies, global expansion, funding growth, and developing capabilities. Boston Scientific is focused on the company's growth to stay ahead of its competitors, which include Medtronic (MDT), Zimmer-Biomet Holdings (ZBH), and St. Jude Medical (STJ), by working to gain higher market share through innovation.
The iShares US Healthcare ETF (IYH) holds ~1.1% of its total holdings in BSX.
Article continues below advertisement
How are these strategies fueling growth?
Category leadership is one of the initiatives that aims to provide support to customers beyond product offerings, which strengthens execution and improves operating efficiencies. The Lotus valve system, Watchman, SpyGlass DS Direct Visualization System, and LithoVue Single-Use Digital Flexible Ureteroscope are some of the technologies that have helped Boston Scientific (BSX) to advance these strategic plans.
Boston Scientific registered emerging market sales growth of approximately 13% in 2015, representing a steady growth in international markets. The company is focused on globalizing research and development and training clinicians. In order to advance this strategic goal, some of the recent initiatives of Boston Scientific include establishing a new R&D center in India; opening Institutes for Advancing Science in Istanbul, Beijing, and Johannesburg; entering into an alliance with Frankenman Medical Equipment Company to accelerate physician training; and co-develop and manufacture endoscopy products in China.
Boston Scientific has undertaken cost-cutting measures and gross margin improvement efforts in order to improve operating margins and help the company retain more funds for innovation. In recent years, the company has also been developing capabilities through collaborations and partnerships. For instance, its Advantics healthcare solution enables collaboration with external partners to provide tailored solutions to hospitals and to provide improved workflow and patient throughput.