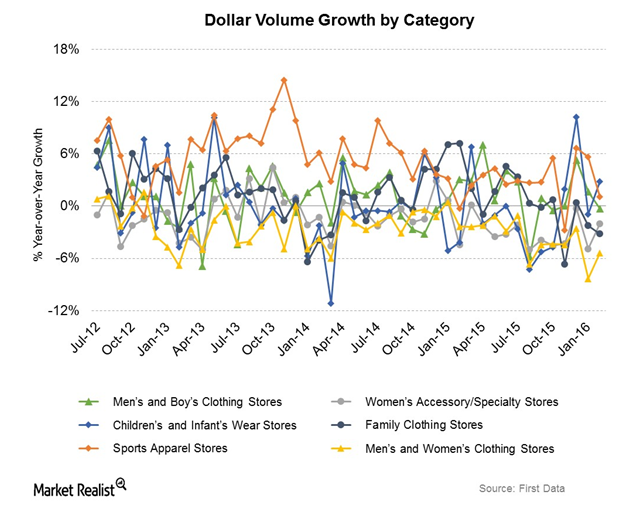 Athleisurewear Giants: Which Companies Dominate Activewear?
The boost in athleisurewear
The athleisurewear category has had a boost from higher interest in physical well-being globally and by increased participation by women in sports and other fitness activities. In the United States, Nike (NKE), Under Armour (UA), Adidas (ADDYY), and Lululemon Athletica (LULU) have seen sales and prices for performance apparel and activewear rise. Spending at more mainstream men's and women's clothing and accessories stores appears to have borne most of the brunt of the tilt toward athleisurewear, with spending trends declining steadily in the last five years.
Article continues below advertisement
Article continues below advertisement
What's driving dollar value growth in activewear?
Dollar value growth in the sports apparel category appears to have come from both higher selling prices and higher unit sales. Higher prices have been the stronger driver. As activewear companies have continued to innovate, they've also been able to raise prices, particularly for more prominent brands such as Nike, Lululemon, Under Armour, and Adidas.
The number-one and number-two players in the US activewear space are Nike and Under Armour.[1. source: Matt Powell, NPD Group] These two companies have seen apparel sales mushroom over the past five years. Nike's apparel sales in the North America segment[2. United States and Canada] have more than doubled, from $2.1 billion in fiscal 2011 to $4.4 billion in fiscal 2015. Under Armour's global apparel sales have increased from $1.1 billion in 2011 to $2.8 billion in 2015. Most of the growth has come from the US market.
The number-three company in the US athleisurewear market is Hanesbrands (HBI), which had $1.6 billion in activewear sales in 2015.
Nike, Under Armour, and Hanesbrands together constitute 4.7% of the portfolio holdings of the Consumer Discretionary Select Sector SPDR Fund (XLY).
The Lululemon effect
Canadian firm Lululemon Athletica (LULU) has been one of the main beneficiaries of the athleisurewear boom. LULU's community fitness focus and unique brand campaigns have made it somewhat of a cult name among fitness enthusiasts. LULU's product offering caters mostly to the premium end of the activewear market. The vertically integrated retailer operates about 252 stores in the United States and more than four times that number in its home market, Canada. The company expects to open more stores in the United States. It derived about 70% of its revenue from US market in fiscal 2015.
LULU had global revenue of $711 million in fiscal 2011. In the recent fiscal year, which ended January 31, 2016, LULU expects to generate revenue of $2.045 billion–$2.050 billion. That's an implied annualized growth rate of 23.5% over the past five years.
Next, let's see why women are boosting the top-line gains for activewear retailers.