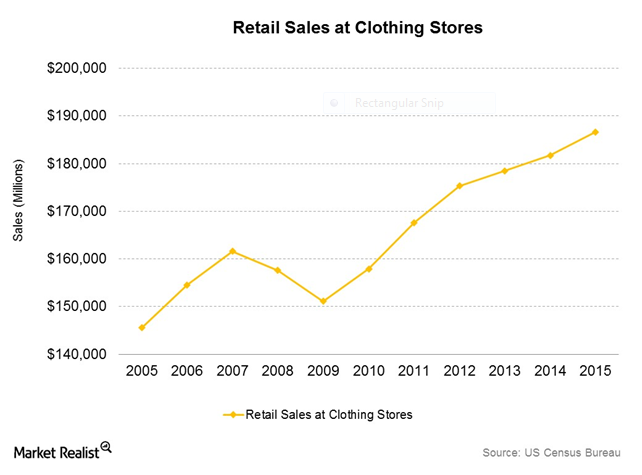 How Has Athleisurewear Boom Impacted the US Apparel Industry?
Structure of the apparel industry
The US apparel industry is highly fragmented with many players. The market for clothing in the United States is estimated at about ~$182 billion, based on 2015 United States Census Bureau data. Chain stores and mass merchandisers have typically been more prominent in the clothing and accessories market.
Walmart (WMT), Macy's (M), Gap (GPS), L Brands (LB), and Target (TGT) are some of the larger players. These companies mostly cater to the mid-to-lower end of the market.
These stocks together make up ~5.7% of the portfolio holdings of the SPDR S&P Retail ETF (XRT). XRT provides exposure to a broad basket of more than 100 US retail sector stocks.
Macy's (M), the largest apparel retailer in the United States, sold clothing and accessories worth $23 billion–$24 billion in fiscal 2015.[1. Fiscal 2015 ended January 31, 2015.]
Article continues below advertisement
Article continues below advertisement
Clothing market trends: Activewear drives apparel sales
The US market for apparel has grown at a CAGR (compounded annual growth rate) of ~2.5% over the last ten years and 3.4% over the last five years. In the last ten years, the overall market for clothing in the United States has grown in all the years except 2008 and 2009. Conditions were challenging in these two years as a result of the Great Recession, which dampened US retail sales overall.
That being said, the growth rate in activewear or athleisurewear has outpaced the overall clothing market, with a double-digit CAGR over the past five years.[2. according to NPD Group and Hanesbrands (HBI) filings]
Most of the gains in the clothing category in the past five years appear to have come from growth in the athleisurewear category. Athleisurewear is a term that was coined to describe apparel used for a variety of activities, including workout gear, clothes for hanging out with friends, and loungewear. Lately, workwear has also tended toward the casual. Consumers, particularly women and children, have shown a distinct preference for more casual apparel, including yoga wear and other athletic performance wear.
In the next part of this series, we'll take a look at the major players in the athleisurewear space.