Was Alcoa Smart to Sell Mt. Holly Smelter to Century Aluminum?
In 2014, Alcoa (AA) sold its stake in the Mt. Holly smelter to Century Aluminum (CENX).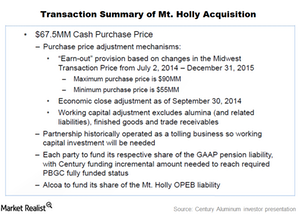 Mt. Holly
In 2014, Alcoa (AA) sold its stake in the Mt. Holly smelter to Century Aluminum (CENX). The transaction price was not fixed and was dependent on Midwest aluminum prices. The base price was fixed at $67 million, but the final transaction price could be $55 million to $90 million. As aluminum prices have been on a losing streak since the deal was announced, Century Aluminum recognized $13 million as an earn-out from the transaction during 1Q16. This helped Century Aluminum post positive free cash flows in the quarter.
Article continues below advertisement
Article continues below advertisement
Earn-out
Falling aluminum prices have helped Century Aluminum in this case as the Mt. Holly acquisition price has come down according to the terms of its agreement with Alcoa. However, the Mt. Holly plant has faced energy supply issues for the last year.
Century Aluminum maintains that the Mt. Holly smelter is among the most efficient smelters in the United States (DIA) by the virtue of being the most recent plant to be commissioned. However, Century Aluminum's power supply contract in this plant has put Century Aluminum at a competitive disadvantage. It's important to note that electricity is a key raw material for aluminum production. Primary producers like Rio Tinto (RIO) and Norsk Hydro (NHYDY) have captive power plants to generate electricity.
Power woes
During their 1Q16 earnings conference call, Century Aluminum said that the Mt. Holly plant ranks in the fourth quartile in terms of power prices. The company also stated that its power costs would be near the global median if it's able to buy all of the power at market rates.
However, recent reports suggest that Century Aluminum has not been able to get legislative support to buy power at market prices. Though Alcoa got less money for the Mt. Holly plant due to the earn-out feature, it saved itself from the power woes by selling its stake.
Nonetheless, Mt. Holly plant held little significance for Alcoa. The key event that Alcoa investors should closely watch this year is the company's split. You can read more about Alcoa's split in our series How Alcoa Plans to Create Value through its Upcoming Split.