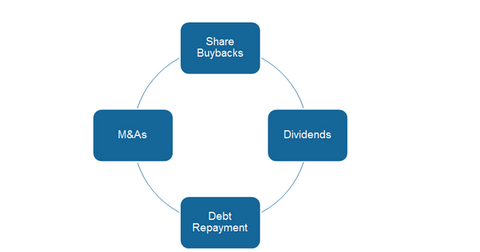 Zimmer Biomet's Capital Allocation Strategy and Shareholder Value
By Sarah Collins

Updated
Reinstated share buybacks
Zimmer Biomet Holdings (ZBH) has been creating shareholder value through consistent share buybacks for more than a decade. However, the company suspended its share repurchase program in early 2014 after the announcement of the acquisition of Biomet. But since the integration is now on track, the company made share repurchases amounting to $150 million in 4Q15 and bought back 1.4 million common shares.
Further, the company has spent $125 million in share repurchases so far in 2016. In February 2016, Zimmer Biomet announced a new share repurchase program and authorized up to $1 billion of the company's common stock for share repurchases.
Article continues below advertisement
Dividends
Zimmer Biomet started distributing dividends to its shareholders in 2012 with an average three-year dividend growth rate of ~20%. In 2015, the company distributed dividends of ~$157 million. It also announced a quarterly dividend of $0.24 per share to be paid on April 29, 2016. That represents an increase of ~9% compared to the dividend of $0.22 distributed in the previous quarter. The cash dividend of $0.24 per share will be paid on or about April 29, 2016, to stockholders of record as of the close of business on March 31, 2016.
Zimmer Biomet's peers Stryker (SYK) and Medtronic (MDT) both declared quarterly dividends of $0.38 per share in March 2016. Johnson & Johnson (JNJ) paid quarterly dividends of $0.75 per share in March 2016. Investors can consider the iShares Russell Mid-Cap ETF (IWR). Zimmer Biomet accounts for ~0.31% of IWR's total holdings.
Article continues below advertisement
Debt repayment
The acquisition of Biomet in June 2015 was partially funded by debt of ~$10.7 billion. After the acquisition, Zimmer Biomet suspended its share repurchase program and focused on consistent debt repayment. In the second half of 2015, Zimmer Biomet paid down ~$500 million against its term loan.
Total debt on the company's balance sheet at the end of 2015 was $11.6 billion compared to $1.4 billion at the end of 2014. The company has debt obligations of approximately $340 million due in 2016. However, according to company guidance, Zimmer Biomet plans to pay up to $1 billion of debt in 2016 with a target leverage ratio of ~3.5x.
Mergers and acquisitions
Zimmer Biomet has a history of successful strategic mergers and acquisitions. Although mostly smaller in size, the company's acquisitions have been strategic fits. In 2016, Zimmer Biomet is expected to be a little conservative due to the recent large-scale acquisition of Biomet but is likely to continue investing in smaller deals with strategic growth potential. The company acquired Ortho Transmission on March 1, 2016, which adds an innovative technology to its reconstructive business segment.
In the final part of this series, we'll look at analyst recommendations for Zimmer Biomet.