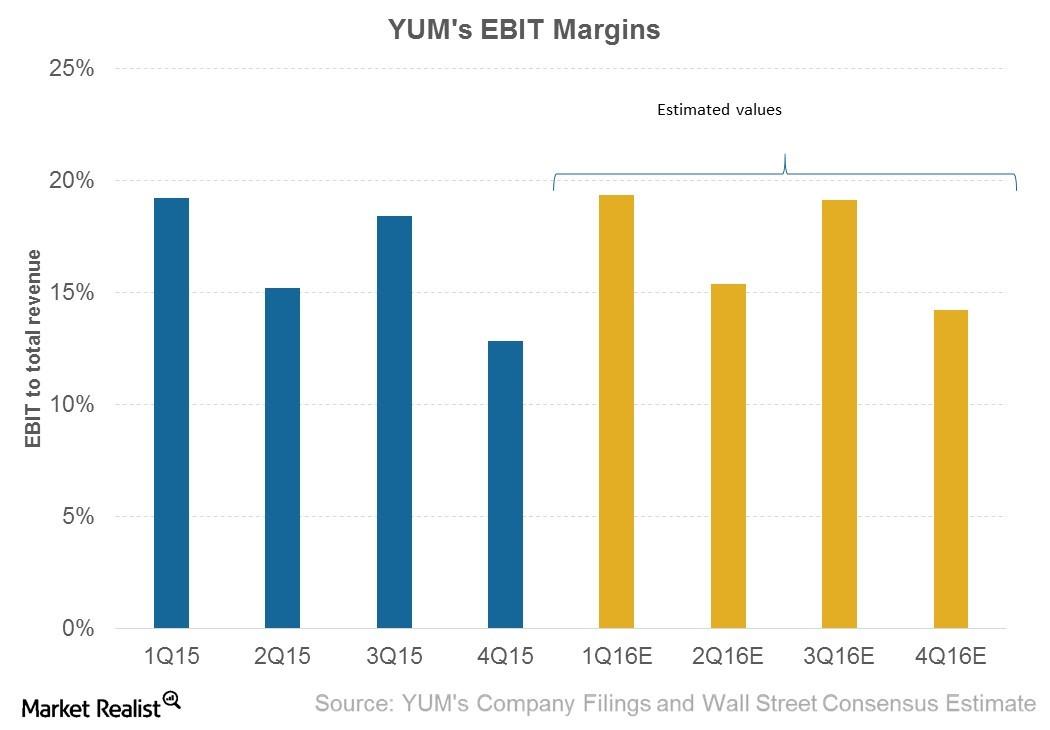 Could Yum! Brands' Margins Increase in 1Q16?
1Q16 expectations
Analysts are expecting Yum! Brands' (YUM) EBIT (earnings before interest and tax) for 1Q16 to be $515 million. That would mean EBIT margins of 19.4%, a slight increase from the 19.2% posted in 1Q15.
Article continues below advertisement
Factors affecting EBIT margins
With positive same-store sales growth expected in all three of YUM's divisions, analysts are expecting the leverage to improve the company's margins. Lower commodity prices and improvements in operating procedures adopted by YUM are expected to increase EBIT margins. YUM expects inflation for food products to be 1% and labor wages to increase in the high single digits in 2016.
Nearly 80% of YUM's restaurants are franchised. That means YUM enjoys higher margins, as franchisees bear the cost of operating the restaurant. Once the spin-off of its China Division is complete, the division will pay 3% of its sales as a license fee. That's expected to improve YUM's margins.
YUM is aiming to increase its franchised restaurants to 96% by the end of 2017. Analysts are then expecting margins to improve further. For 2016, analysts are expecting YUM's margins to be 16.8% compared to 16.1% in 2015. YUM forms 0.19% of the holdings of the iShares Core S&P 500 ETF (IVV).
Peer comparison
In 1Q16, analysts are expecting EBIT margins of Papa John's (PZZA), Domino's Pizza (DPZ), and McDonald's (MCD) to be 8.9%, 19.4%, and 30%, respectively. This compares to 8.7%, 18.6%, and 25.3%, respectively, in the corresponding quarter of 2015.
In the next part of this series, we'll see what we can expect for Yum! Brands' earnings in 1Q16.