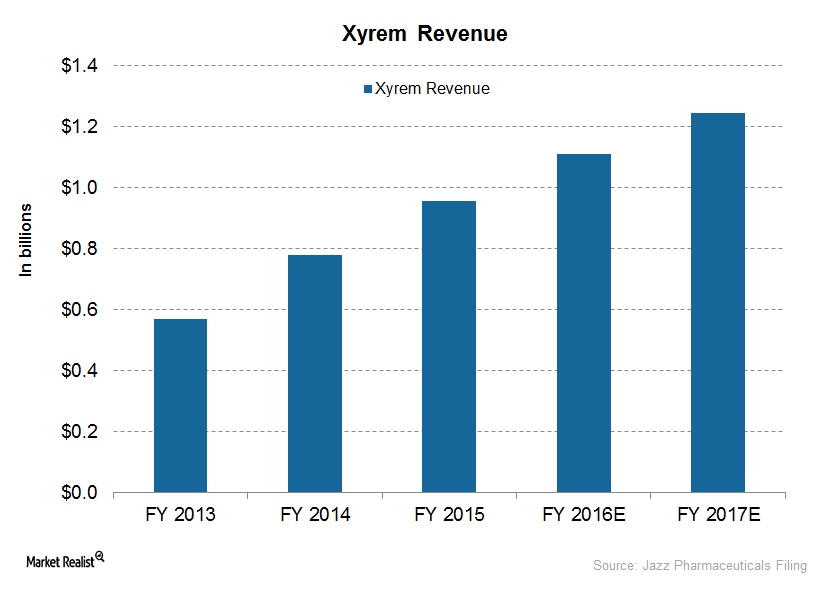 Xyrem: Jazz Pharmaceuticals' Key Product
By Jillian Dabney

Apr. 21 2016, Published 3:18 p.m. ET
Xyrem
Xyrem is the only FDA-approved drug for both cataplexy and EDS (excessive daytime sleepiness) with narcolepsy. It received approval from the FDA in fiscal 2002 for the indication of cataplexy in patients with narcolepsy. Later, in fiscal 2005, the label for the drug was expanded for EDS in patients suffering from narcolepsy. It had orphan drug status for both indications. Although the exclusivity period has expired, the drug is still being protected by 20 US patents.
Article continues below advertisement
The revenue from the drug during fiscal 2015 stood at $955.2 million. Wall Street analysts expect moderate revenue growth of ~16% and 12% from the drug during fiscals 2016 and 2017, respectively. They have estimated that Xyrem will earn ~$1.1 billion and $1.2 billion in fiscals 2016 and 2017, respectively.
According to guidance provided by Jazz Pharmaceuticals (JAZZ), the net sales from the drug should range between ~$1.1 billion and $1.13 billion in fiscal 2016, which accounts for the recent price increase of 9%.
What is narcolepsy?
Narcolepsy, a "chronic neurological disorder is characterized by EDS, cataplexy, sleep paralysis, hypnogogic hallucinations and disrupted nighttime sleep. EDS is present in all patients whereas 70% of patients experience cataplexy, the sudden loss of muscle tone." Other companies that are into orphan disease drugs are Vertex Pharmaceuticals (VRTX), BioMarin (BMRN) and Shire (SHPG).
Industry-specific factors such as pricing pressure, pipeline approval, and volume uptake contribute towards the company's share price performance. To avoid direct risk, ETFs might prove to be a good option. To get exposure to Jazz Pharmaceuticals and control excessive company-specific risks, investors could invest in the iShares Russell Mid-Cap Growth ETF (IWP). Jazz accounts for 0.31% of the fund's total holdings.