What's Kellogg's 2020 Vision Strategy?
Kellogg plans to return its "Kashi" brand to growth in 2016. It aims to lead in plant-based nutrition and win with "food forward" consumers.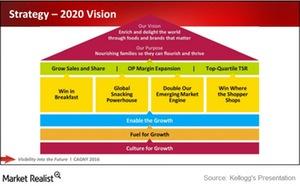 What's Kellogg's strategy
In the recent Consumer Analysts Group of New York Investor Conference, Kellogg Company (K) discussed it 2020 growth strategy. The strategy addresses four pillars—Win in Breakfast, Global Snacks Powerhouse, Emerging Markets, and Win Where the Shopper Shops. The company aims to grow sales and share along with expanding its operating margin through these strategies.
The company plans to invest in its food by returning its "Kashi" brand to growth in 2016. It aims to lead in plant-based nutrition and win with "food forward" consumers. Its visibility into the future also includes accelerating the Latin America business, doubling the Asian business, tripling the Arabian business, and transforming the African business. The company also targets increasing sales capabilities in developed markets by investing back in technology to improve the effectiveness of its direct store distribution system.
Article continues below advertisement
Article continues below advertisement
Returns to shareholders
In 2015, Kellogg returned more than $1.4 billion to shareowners through dividends and share repurchases. The company also approved a $1.5 billion share repurchase program that will run through 2016 and 2017. It expects to repurchase ~$700 million–$750 million of shares in 2016.
Currently, Kellogg has a dividend yield of 2.6%. The company's management has been raising the dividend on a consistent basis for the last five years. It increased at an average annual rate of 4.7%. The company paid ~$1.98 per share in dividends to shareholders in 2015.
Recent dividend paid
On February 19, the company announced that its board of directors declared a dividend of $0.50 per share on the company's common stock. The dividend was paid on March 15, 2016, to shareowners of record at the close of business on March 1, 2016. The ex-dividend date was February 26, 2016. This dividend marks the 365th dividend paid by the company to owners of common stock since 1925.
Kellogg's competitors in the industry include Flowers Food (FLO), McCormick & Company (MKC), and General Mills (GIS). They reported year-to-date returns of -10.4%, 8.7%, and 6.0%, respectively. The First Trust Value Line Dividend Index Fund (FVD) invests 0.56% of its portfolio in Kellogg.