Understanding the Key Growth Drivers in the Collaboration Business
With businesses growing at a rapid pace, companies have begun to adopt new and innovative collaboration solutions to keep up in the competitive environment.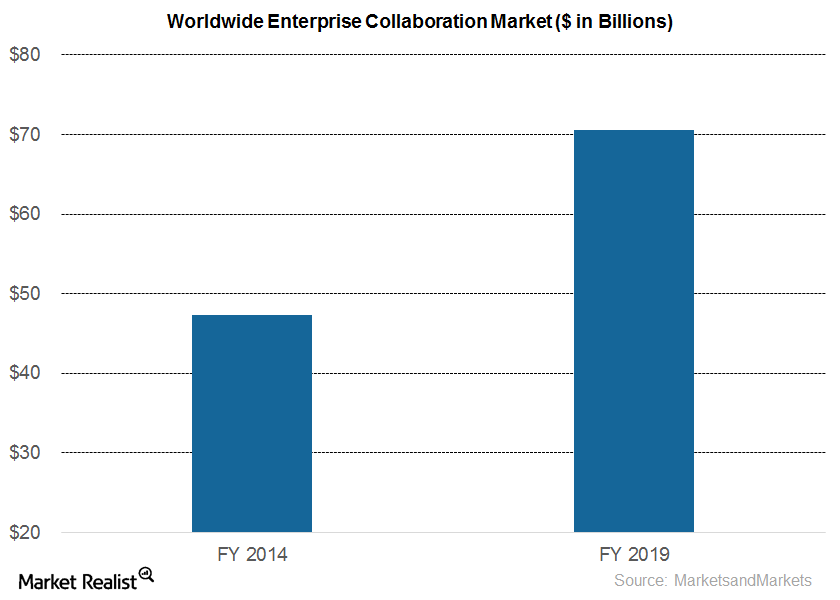 Rising need to collaborate operational functions
With businesses growing at a rapid pace and the communication process becoming more complex, businesses increasingly need to collaborate their operational functions. Companies have thus begun to adopt new and innovative collaboration solutions to keep up with the agility demanded by such a competitive environment.
Solutions such as unified communications, collaborative workspace, and enterprise social networks provide greater ease of communication by connecting organizations, partners, suppliers, and other ecosystem stakeholders. These solutions reduce communication delays and speed up processes by increasing work agility and productivity. Enterprise collaboration, in particular, is expected to grow at a healthy rate over the next few years.
Article continues below advertisement
Article continues below advertisement
The collaboration market expected to reach $70.6 billion in 2019
Some of the major drivers for the enterprise collaboration market include rapidly evolving communication standards, increases in the amount of data flowing for communication, and hyper-connectivity to the internet. According to the research firm MarketsandMarkets, the enterprise collaboration market is expected to grow from $47.3 billion in 2014 to ~$70.6 billion in 2019.
In terms of revenues, North America, and Europe (EFA) (FEP) are expected to be the biggest markets for this space. Asia-Pacific is expected to experience increased market traction during the above period.
A super growth sub-segment?
In 4Q15, teamwork applications, hosted contact centers, cloud file sharing, hosted video, hosted voice, and a range of hosted solutions saw strong growth. Teamwork applications are also emerging as a "super growth" sub-segment that includes Cisco's (CSCO) Spark and other vendors like Slack, Cotap, and Redbooth.
Jeremy Duke, Synergy Research Group's founder and Chief Analyst, stated that "collaboration continues to be a market that is characterized by a long list of disruptive and high-growth companies, with no less than twelve companies achieving year-on-year growth rates in excess of 25%."
Notably, the iShares North American Tech-Multimedia Networking ETF (IGN) lists many companies in the networking space. Cisco Systems (CSCO), Juniper Networks (JNPR), Motorola Solutions (MSI), and Palo Alto Networks (PANW) together account for 29% of IGN.
Now let's take a closer look at data center growth.