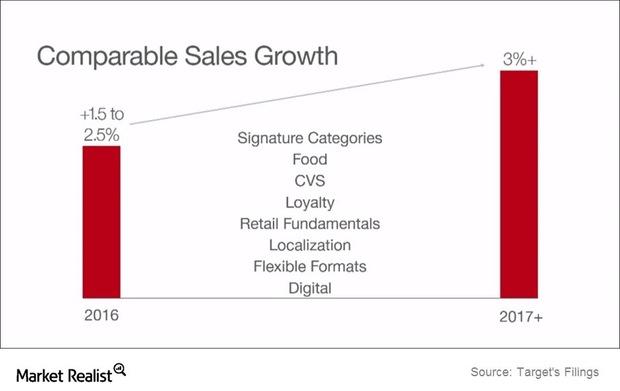 Why Target Is Focusing on Its Signature Categories to Drive Sales
Target's signature categories see above-average comparable growth
Merchandising decisions are critical if Target (TGT) is to survive the competitive retail environment. Target has identified four signature categories that it's concentrating on to provide higher store and web traffic and sales: Baby, Style, Wellness, and Kids.
These categories constitute about a third of the retailer's sales. They've consistently provided above-average growth and are also driving higher store traffic. In fiscal 2016, these categories grew almost three times as fast as the rest of the other business lines in Target's portfolio.
Article continues below advertisement
Article continues below advertisement
Target reported its fifth straight quarter of traffic growth in fiscal 4Q16, partly driven by demand for these products. In the last three quarters of fiscal 2016, these categories grew 2.5x–3.0x faster than the overall company average, comping ~7% in November and December 2015. Products performing well included women's apparel, toys, kids' home products, wearables, and food.
Differential offering
So why are shoppers rushing to buy at Target lately? The retailer's been focusing on providing a unique assortment via brand exclusives that are only available at Target. The company has also been focusing on its own private-label product portfolio, a strategy that could both drive higher customer loyalty and benefit the bottom line.
Last fiscal year, around 15% of Target's toy assortment consisted of products unique to the retailer, including the sought-after BB-8 droid from the Star Wars movie. According to Brian Cornell, CEO of Target, the company's Star Wars assortment helped it to "capture an industry-leading position."
One of Target's exclusive brand tie-ups is Hanesbrands' (HBI) activewear line C9 by Champions, which is also yielding good results in apparel.
Retail differentiators
Brand exclusives and private-label products accounted for about a third of Target's sales in the last two fiscal years— between $24 billion and $25 billion. Costco's (COST) private-label brand Kirkland Signature made over $24 billion in sales in the last fiscal year.
Drug store retailer (XRT) CVS Health (CVS) estimates that it saw a store brand penetration rate of 22% of front-end sales in 2015. Rite Aid's (RAD) private brands penetration rate came in at 18.5% in fiscal 2015.
Target, Costco, and CVS together constitute 1.4% of the portfolio holdings of the iShares MSCI USA Minimum Volatility ETF (USMV).
Target is also repositioning its food and grocery business to become a prime growth driver in the future. We'll discuss this in the next article.