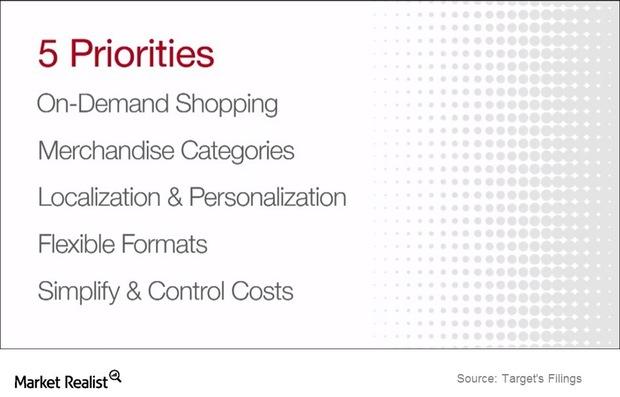 Can Target Make the Most of Its Opportunities?
Key opportunities that may benefit Target (TGT) in the future
Target (TGT) has several growth (IWF) opportunities on the anvil that may benefit the retailer for years to come. The company's flexible and smaller format stores could prove a cost-effective and capital-efficient way for it to reach customers in new markets.
Article continues below advertisement
Article continues below advertisement
Brand exclusives, private label brands
Another key opportunity is the company's focus on a greater number of brand partnerships, particularly in its signature styles. Brand exclusives, particularly in categories such as toys, apparel, and health and wellness, are part of the reason Target posted an upbeat fourth quarter in fiscal 2016.
Developing its own portfolio of private-label brands is also a key opportunity for Target. Private-label brands not only provide a degree of uniqueness to a retailer, they are also margin enhancers. Competitors such as Walmart (WMT), Kroger (KR), and Costco Wholesale (COST) are also investing in their respective store brands, particularly in high-growth areas such as organics.
Key opportunity for Target: Flexible format stores
Target's launch of new, smaller store formats with curated merchandise assortments in urban locations are also likely to spur sales and bring in new customers.
Threats: Competition
Despite all the positives that Target can look forward to, its business model is easily replicable. Consumer tastes are notoriously fickle, and the retailer must ensure that its inventory stays fresh and its prices stay competitive.
The discount retail industry is characterized by a high degree of competition, which makes its merchandising decisions all the more critical. Missed fashion calls could result in the higher discounting of merchandise, affecting Target's profitability.
Besides, online retailers such as Amazon (AMZN), Jet.com, and Wayfair (W) are constantly launching new product categories aimed at providing better value to customers, furthering competitive pressures in the industry.